Jewelry and fragrance manufacturer Bulgari is paving the way in multisensory marketing with a new video featuring actress Kirsten Dunst to push its fragrance, Mon Jasmin Noir, that incorporates sight, audio and the envisioning of smell.
Bulgari, which could soon become part of LVMH, advertised the video via a Facebook note and on the branded Web site at http://www.bulgari.com [2]. There is behind-the-scenes video and event footage, information about the making of the perfume and ways to purchase.
"This is indicative of what we're going to see in the future, how organizations are going to market themselves and position their brands," said Rex Whisman, president of BrandED Consultants Group [3], Denver. "Multisensory branding is the most effective way of captivating an audience.
"Brands should really focus on how customers see, smell, hear, touch and taste a brand," he said. "Bulgari does a great job with allowing customers to see and hear the campaign, and the visual and audio effects almost let customers smell it."
Mr. Whisman is not affiliated with Bulgari, but agreed to comment as a third-party expert source.
Bulgari did not respond by press deadline.
Getting catty
Mon Jasmin Noir sells for $105, $80 and $45 bottles. There is also a $28 bottle of bath and shower gel and a $35 bottle of body lotion.
Consumers who see Bulgari's note via Facebook can click on a link that takes them to Bulgari's Web site.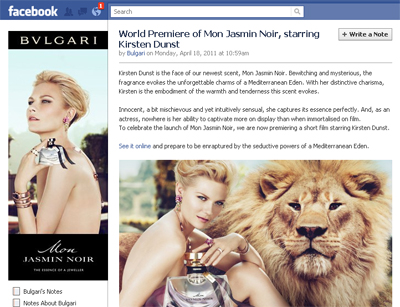 Link from Bulgari's Facebook page
Bulgari's new video shows Ms. Dunst roaming through a garden sprinkled with jasmine flowers and a fountain. Her costar, a large African lion, frolics nearby.
The actress sensually moves around the garden while holding a bottle of the scent.
Mon Jasmin Noir video and extra footage
When consumers arrive at the site, they can watch the movie or observe some other features.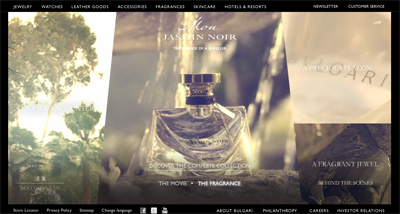 Bulgari Web site
An Unusual Encounter describes the comparisons – and differences – between Bulgari the jeweler and Bulgari the perfumer.
A Precious Flagon shows details about the bottle, including how it is made and how the bottle is presented when bought.
There is a section devoted to the Jasmin flower called A Fragrant Jewel. Jasmin is known as the diamond of perfumery because of its multifaceted nature, according to Bulgari.
A Fragrant Jewel shows how the scent was made and why the certain ingredients were chosen.
There is social media functionality so that consumers can share the video on their Facebook or Twitter walls.
Users can also opt to buy the fragrance, as they are already conveniently on Bulgari's ecommerce site.
The scent of success
Most brands are choosing to hire famous actors and actresses to star in campaigns for their fragrances.
For instance, Chanel has chosen Keira Knightley to promote Coco Mademoiselle with an email promoting the video on the branded fragrance site (see story [4]).
Meanwhile, Christian Dior's fragrance, Miss Dior Cherie, is promoted by Natalie Portman through a Facebook tab and dedicated microsite (see story [5]).
However, with videos becoming more prominent on branded sites, this type of marketing may become oversaturated, or possibly just overlooked.
"Every brand is posting video on the Internet," said Laura Ries, president of Ries & Ries [6], a Roswell, GA-based brand consultancy. "And the more brands that do it, the less effective it becomes for each brand.
"Bulgari is using the Internet, videos and social media, but who cares, so is everybody else these days," she said. "It isn't so much about what you do and where you do it, the key to success is having the right marketing message in the first place."
However, BrandED's Mr. Whisman believes that Bulgari's use of sound and sight work with the brand, rather than against it.
Instead of choosing music that is popular, it selects a soundtrack that goes with the brand and the image of the perfume, Mr. Whisman said.
"This is a very forward way of thinking about marketing," Mr. Whisman said. "This particular company has an advantage because they already have scent built-in, which is the most memorable sense.
"Music is also a strategic approach in terms of what we're hearing, seeing and what we may be smelling and incorporating it into the online experience," he said.
Final Take
Rachel Lamb, editorial assistant on Luxury Daily, New York