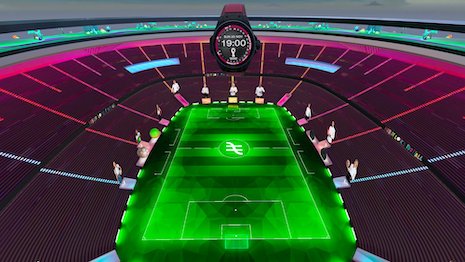 Hublot debuts its first AI stadium, partnering with experts in virtual reality and design. Image credit: Hublot
Luxury Daily's live news for Jan. 12:

Audi EV deliveries increase by 44pc in 2022, despite overall sales dip
German automaker Audi's 2022 sales report indicates that while overall sales decreased this past year, its electric vehicle demand went up.
---
Four Seasons shakes up exec team, strengthens global leadership
Luxury hospitality group Four Seasons is promoting key players to leadership positions around the world.
---
Hublot taps AI for metaverse stadium, highlighting football ties
Swiss watchmaker Hublot is unveiling a virtual sports stadium, marking its official entrance into the metaverse.
---
Glion Institute announces continued sponsorship of Vendôm Company luxury recruitment event
Switzerland's Glion Institute of Higher Education is joining The Vendôm Company for a second go-round sponsorship of the talent company's signature event.
---