German automaker Audi is targeting users of the TV.com iPhone application through banner and video advertisements that lead to optimized content which guides users to the brand's mobile site.
The banner ads run at the bottom of the TV.com app and engage users with brand content. Audi is promoting its RS, R8 and S models through mobile banner placements, but it is not the first automaker to do so.
"Marketers who have data that shows they might be losing impressions with their target audience through traditional media might look to mobile ads as a supplemental outlet, if that is where the market is moving," said Mark Elfenbein, chief business development officer at Mood Media, Los Angeles.
"For brands that are looking to engage the growing mass of smartphone users, mobile ads can be a medium to consider, depending on their specific objectives," Mr. Elfenbein said. "They may not be right for all brands.
"A brand would consider mobile app ads as a component of an integrated social, mobile and local strategy."
Mr. Elfenbein is not affiliated with Audi, but agreed to comment as an industry expert.
Audi [2] could not comment by press deadline.
TV and videos
Audi's banners at the bottom of the TV.com app are either videos or still images.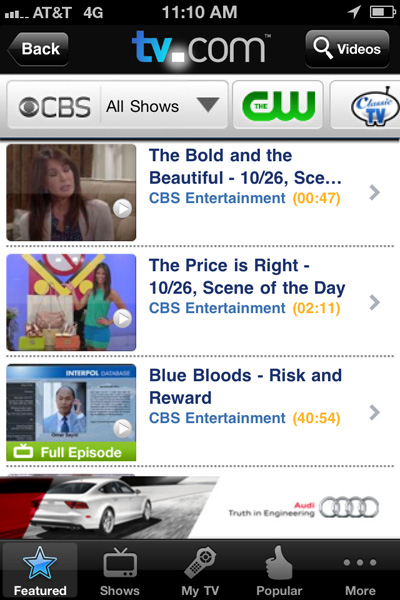 [3]
Audi banner ad
Once users click on the banner, they are directed to another page about the Audi experience. They are given the choice to click to "start the experience" or asked to swipe down to learn more.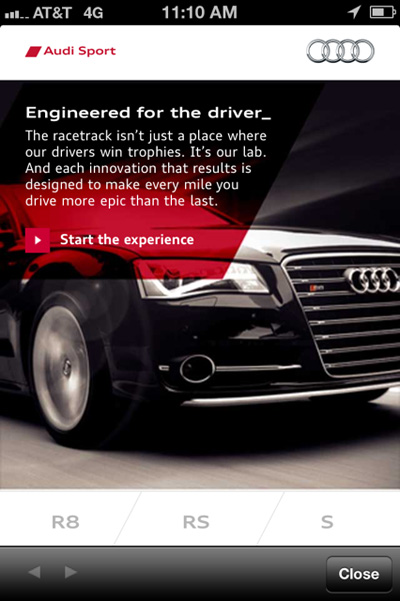 [4]
Audi mobile ad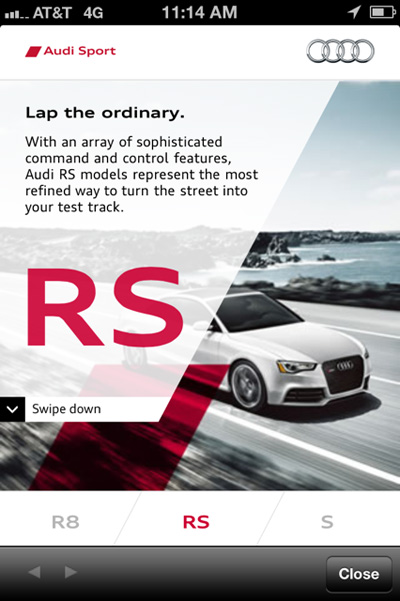 [5]
Audi mobile ad
After users click to "start the experience," they are taken to another page to view Audi's videos.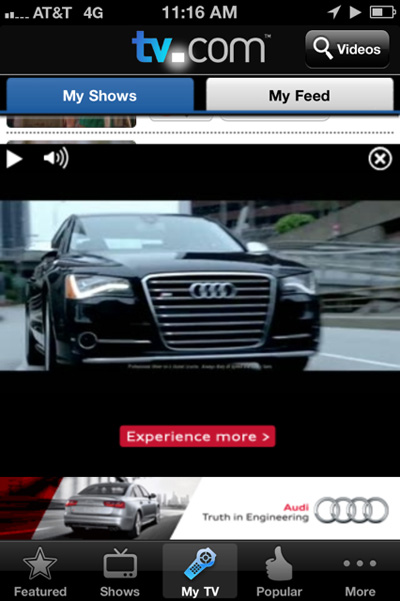 [6]
Audi mobile ad
Also, there is a link for users to "experience more" that leads to Audi's site.
Putting ads on the TV.com app could be a promising strategy for Audi.
"More and more people are getting their entertainment content on the move," Mr. Elfenbein said. "Consumers might prefer to watch their favorite show on their tablet or smartphone during a commute, which means brands need to allocate some of their traditional broadcast spend to alternative media platforms."
Mobile banners everywhere
Audi is not the only luxury automaker to use mobile banner ads. 
Toyota Corp.'s Lexus is targeting New Yorkers who are visiting the AccuWeather mobile site through banner ads for the LS F Sport that lead to optimized content.
Whether intentional or not, the ads appeared when users viewed weather conditions in New York on Tuesday, Oct. 30, which was a pivotal day for Superstorm Sandy. Lexus' banner ad led to a mobile-optimized site that is tailored to the usage habits of consumers on smartphones (see story [7]).
In addition, jeweler Tiffany & Co. directed affluent New Yorkers to its new SoHo property through geo-targeted banner ads on the Weather Channel mobile app.
Consumers checking out the map section on the app saw the banner ad on the top of the page. The ad allowed consumers to call the store and gave directions to the property (see story [8]).
However, at times these ads can be too much for mobile users.
Although mobile banner ad personalization is important for luxury marketers, too much can be seen as invasive by affluent consumers. Therefore, using specific calls-to-action in mobile banner ads that allow opt-in engagement can help brands personalize future efforts.
Focusing on the correct time, place and environment in which to reach a target customer is of the utmost importance for luxury marketers. There is a correct usage of personal information that brands can use to drive clicks, transactions and engagement (see story [9]).
"Brands need to place themselves where the content is being consumed, and that place is no longer restricted to the car and the couch," Mr. Elfenbein said. "Content lives in the customers' front pocket or in their purse – brands need to be there too."
Final Take
Erin Shea, editorial assistant on Luxury Daily.