New York-based department store Bergdorf Goodman is looking to boost holiday sales through a direct mail catalog meant to lure affluent recipients to the in-store experience.
The holiday catalog promotes the retailer's exclusive gifts for fans of the Bergdorf lifestyle and features brands such as Cadillac, Alexander McQueen, Tom Ford and Valentino. It includes gifts for men, women, children and the home in a 68-page print catalog.
"Bergdorf Goodman has always championed the sophisticated customer experience it offers as much as the sophisticated products it sells," said Maude Meister, associate strategist at Siegel+Gale [2], New York. "Customers do not just go to shop, but they go to be a part of the Bergdorf Goodman lifestyle, to have lunch and to go the spa.
"Bergdorf differentiates itself through experiential elements that are impossible to replicate online – customers are able to browse its boutiques and interact with its employees who are knowledgeable and passionate about fashion and are there to service the customer," she said.
"Bergdorf beckons the customer to come out from behind the computer and be immersed in an amazing, world-class shopping experience that cannot be replicated online."
Ms. Meister is not affiliated with Bergdorf Goodman, but agreed to comment as an industry expert.
Bergdorf [3] did not respond by press deadline.
Happy Holidays
The cover of the catalog features multicolored Massimo Lunardon mouth-blown whimsical drinking glasses.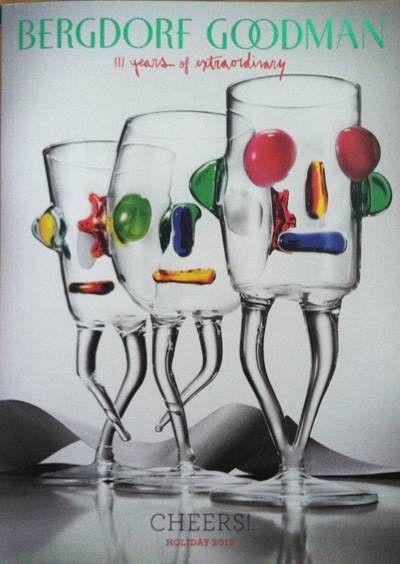 [4]
Bergdorf Goodman holiday catalog 
The first page shows an Ivory Mongolian lamb skull-clasp clutch by Alexander McQueen.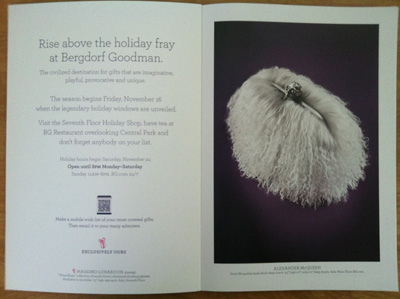 [5]
Bergdorf Goodman holiday catalog
Keeping with the holiday spirit, Bergdorf features its own collection of New York-themed tree ornaments.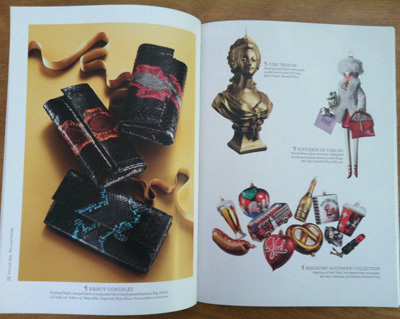 [6]
Bergdorf Goodman holiday catalog
Towards the middle of the catalog, a Cadillac XTS 2013 takes up a two-page spread.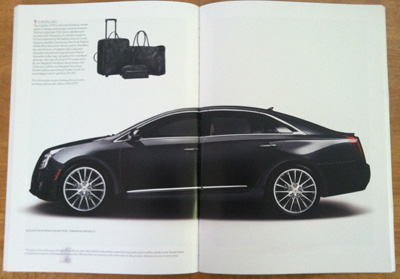 [7]
Bergdorf Goodman holiday catalog
On the back cover is a group of assorted Sydney Evan diamond, sapphire and 14-karate yellow, rose and blackened gold charms on necklaces.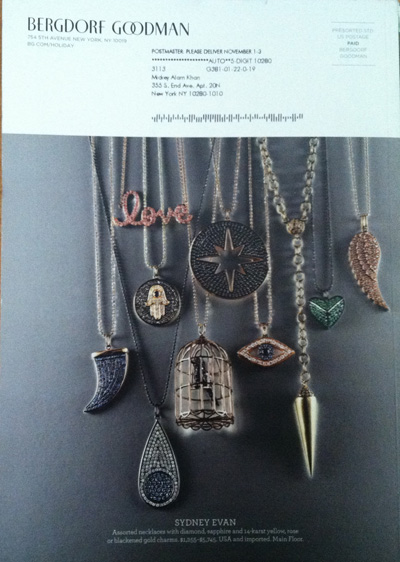 [8]
Bergdorf Goodman holiday catalog
Celebrating a lifestyle
The holiday catalog is another mail effort from Bergdorf celebrating its 111th anniversary.
Earlier this year, Bergdorf released a fall/winter shoe book representing the aftermath of its 111 anniversary celebration.
The pages of the fall/winter shoe direct mail book are littered with fallen Champagne glasses, corks, balloons, confetti, cakes and other party paraphernalia. The images present shoes by Christian Dior, Manolo Blahnik, Christian Louboutin, Alexander McQueen, Jimmy Choo, Chanel and other luxury brands (see story [9]).
"It is a huge achievement for Bergdorf to celebrate its 111th anniversary," said Courtney Albert, management consultant at Parker Avery Group [10], Atlanta.
"This celebration helps to cement the brand's longevity and history in the minds of consumers, key components in the world of luxury," she said.
Mobile v. print efforts
Although Bergdorf chose print as its platform to show off its holiday collection, other retailers are choosing mobile.
"Print can be one of the most personalized mediums and is the preferred method of communication for most luxury brands," Ms. Albert said. "It has the ability to tell the brand's story both visually and textually, with minimal effort required from the reader.
"However, to use printed mail effectively, this means that the brand has to really know its customer," she said. "Not only what message they are more likely to respond to, but the basic knowledge of where they are located or live."
Meanwhile, department store chain Neiman Marcus, which shares the same parent as Bergdorf, is letting consumers interact with its 2012 Christmas Book through a mobile application that reads digital watermarks on the fantasy gifts pages and reveals additional content.
Holiday catalogs from luxury retailers are one form of print marketing that is not likely to disappear in favor of digital efforts. Therefore, retailers that link to mobile content through the print medium could keep young, savvy consumers engaged on a traditional marketing channel (see story [11]).
"Mobile touch points are a very necessary component for catalogs like this," Ms. Albert said. "We are constantly changing how we interact with retailers and how we shop.
"We tend to reach for the quickest and closest device, out phones and tablets, to access information," she said.
Final Take
Erin Shea, editorial assistant on Luxury Daily