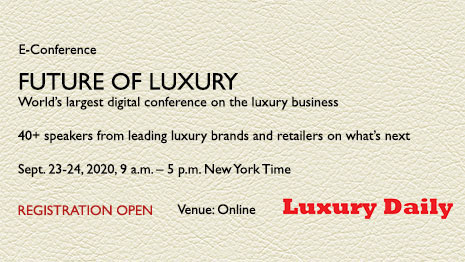 Luxury Daily will host its Future of Luxury eConference Sept. 23-24 on the road ahead for the luxury business
Would you like to sponsor Luxury Daily's Future of Luxury eConference?
Here is your chance to get in front of an impressive assemblage of the world's leading luxury brands and retailers as they chalk out their road-ahead strategy in a dramatically changed world.
Luxury Daily is offering two lunch keynote sponsorships for the world's most extensive luxury conference hosted online: more than 40 speakers from leading brands sharing insights and strategy across two days, Sept. 23-24.
The event is a proper conference native to online, with eight hours of sessions each day. Speakers include senior executives from Boston Consulting Group, Harrods, Bentley Motors, Saks Fifth Avenue, Apple, Christie's, Facebook/Instagram, eBay, Montblanc, Pomellato, Moët Hennessy, UBS, Wempe, Watches of Switzerland, LVMH's Starboard Cruise Services, Alibaba, Capgemini, Forrester Research, Agility Research & Strategy, McCann Worldgroup, Accenture, Walpole, Comité Colbert, Altagamma, Fondation de la Haute Horlogerie, VistaJet, Knight Frank, Fifth Avenue Association, Travel + Leisure, Small Luxury Hotels of the World, Northrop & Johnson, Positive Luxury, Shanker Inc., Luxury Institute, SelfSells, Coresight Research, Business of Aspiration, Quinn PR, Soozan Baxter Consulting and China Luxury Advisors.
Please get in touch with us at ads@napean.com if you would like to inquire about the lunch keynote and other sponsorships.
Please click here to check out the Future of Luxury eConference's agenda and register if a sponsorship is not your cup of tea. Limited seats available. Join us – as a sponsor or a registrant!