Lexus, David Yurman, Audemars Piguet, Cartier and Hermès are among the advertisers that make up the 87 ad pages in the second issue of high-society publication DuJour to target the pool of affluent readers.
The 272-page over-sized book caters to affluent consumers in top markets through fashion, culture, food and entertainment content as well as city-specific features. DuJour 's distribution is 250,000 direct mail print copies, with an additional 15,000 copies displayed on newsstands as well as a monthly online edition on which print advertisers gain additional exposure.
"DuJour is fortunate to carry advertising from luxury brands that mirror the content, which speaks directly to the passions of its audience – men's and women's fashion, home, fine jewelry, travel, automotive, fine dining, real estate and health and beauty, to name a few," said Jason Binn, founder/CEO of DuJour [2], New York.
Daily dose
The winter issue of DuJour boasts the cover line, "The Triumphant Nicole Kidman," and shows the actress leaning against a wall in a Max Mara cashmere sweater.
Ms. Kidman is featured in an article that discusses her role in "The Paperboy," marriage to Tom Cruise, longtime acting career and family with husband Keith Urban.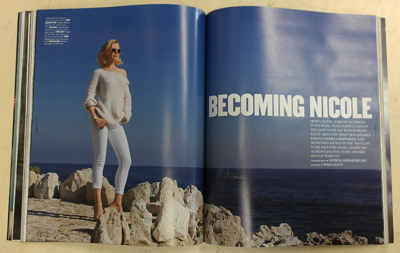 [3]
Ms. Kidman feature 
Another notable story in the issue is that by investigative reporter John Connolly who recently found key evidence in a cold case involving a trust fund.
The magazine's fixed Style, Life, Body, Play, Work and Culture sections each present the latest lifestyle updates.
In addition, the Cities section at the back of the book showcases what is new and noteworthy in U.S. markets including Aspen, Chicago, Dallas, Houston, Las Vegas, Miami, New York, Orange County, Palm Beach and San Francisco.
Luxury advertisers such as Lexus, David Yurman and Audemars Piguet are gaining exposure to the affluent readers of DuJour through placements in front of book.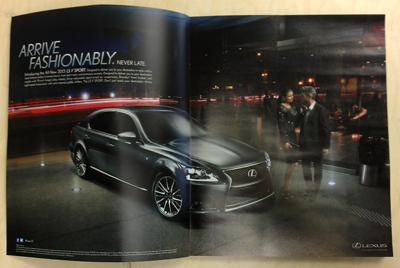 [4]
Lexus ad 
Cartier, Graff, Dom Pérignon, Bergdorf Goodman, Montblanc and John Varvatos each have one-page ads on the pages that lead up the editorial content.
Throughout the opening sections are additional ads. For instance, Belstaff, Breitling and Circa have ads in the Style section.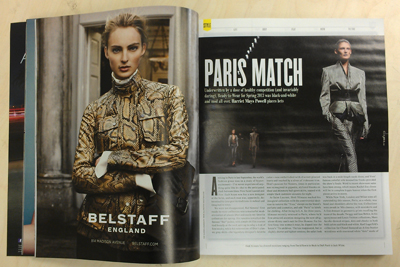 [5]
Belstaff ad 
After the features are the city guides. Thompson Hotels took out an ad adjacent to a Los Angeles page while Liberty Helicopters targets New Yorkers.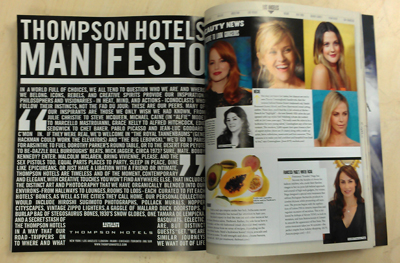 [6]
Thompson ad 
Hermès rounds out the book with a winter-themed ad on the back cover for its watches.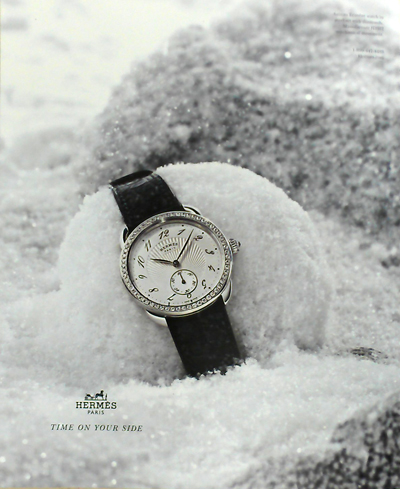 [7]
Hermès ad 
Many of the same advertisers are present on the latest magazine-like digital edition of DuJour found at http://dujour.com [8]. The site is device agnostic and optimized to be viewed on desktops, laptops, mobile devices and tablets, per Mr. Binn.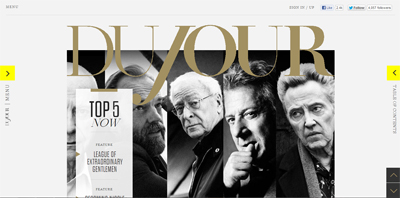 [9]
DuJour online edition 
Guilty pleasure
DuJour targets 3 million of Gilt's ultra-affluent consumers, an audience responsible for spending more than $600 million annually.
The magazine launched this fall as a quarterly print publication and a digital magazine. (see story [10]).
The inaugural print edition of DuJour contained ads from Ralph Lauren, David Yurman, Estée Lauder, Dom Pérignon, Audemars Piguet, Breitling and other luxury brands.
The oversized 312-page magazine ended with a back-cover Hermès ad.
The fall 2012 features included a spotlight on motherhood with model Christy Turlington, a Morocco travel guide and a fall fashion spread with model Crystal Renn (see story [11]).
The momentum of the luxury industry seems to back the power behind the publication.
"The luxury market is alive and well, and is always seeking to target the most appropriate consumers in the most welcoming environment," Mr. Binn said.
Final Take
Tricia Carr, editorial assistant on Luxury Daily, New York