High-end fashion label Cole Haan used a 360-degree marketing strategy for its spring/summer Subway Stories campaign that uses social media, banner, mail, out-of-home and mobile advertising.
Tapping into the spirit of the New York subway system, Cole Haan is using the different subway lines to separate components of its campaign. The brand is ensuring maximum reach by spreading the campaign onto as many channels as possible.
"This campaign should help Cole Haan by increasing awareness of the brand and its diverse product line," said Ron Kurtz, president of American Affluence Research Center [2], Atlanta.
"Cole Haan's image will be enhanced by the buzz that such a campaign will create," he said.
Mr. Kurtz is not affiliated with Cole Haan, but agreed to comment as an industry expert.
Cole Haan [3] was not available to respond before press deadline.
Cole's sole
Cole Haan used New York because it is a city that "never settles."
The brand vows that as long as it moves, Cole Haan will move with it, according to various testimonies on its marketing.
Cole Haan used New York subway lines to spell out its name, making use of the "Q" line to replace the "O" in its name.

[4]
Cole Haan's Web site
The brand also took advantage of advertising channels to make use of its campaign.
For example, Cole Haan advertised on the fashion news site Refinery 29.
Consumers could click on each of the letters to be led to a different "line" of the collection. For example, clicking on the "E" in Cole Haan would lead consumers to the "E" line of the collection.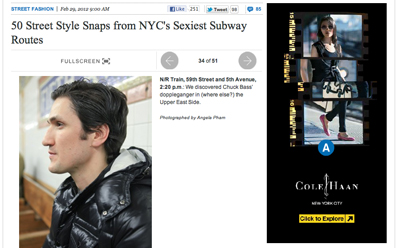 [5]
Advertising on Refinery 29
Cole Haan ramped up its digital efforts by dedicating its Web site homepage and social media accounts to the campaign.
In fact, its Facebook account provides stories and images from the brand while allowing interaction and comments from consumers who have seen the campaign or bought the collection.
Cole Haan is also advertising – predictably – in subway waiting stations and inside cars.
In addition, the brand sent out fliers and full catalogs that showed products from the line and the inspiration behind the campaign.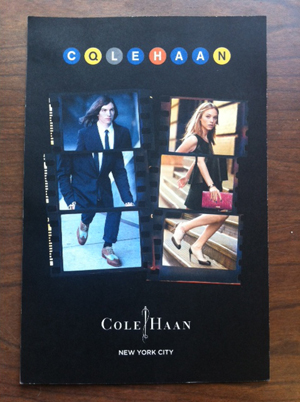 [6]
Cole Haan mailer
Cole Haan's mobile-optimized site allows consumers to shop in the women's "E" line and men's "C" line on the front page. Tapping on the selection brings consumers to an optimized page with products from the collection.
"Multichannel campaigns are a good way to reach different market segments and to achieve multiple exposure to the same consumers," Mr. Kurtz said.
New York, I love you
Cole Haan is not the first brand to use one city as a muse for its campaigns.
For example, department store chain Barneys New York is using real New York residents to promote its newest Co-Op inventory through a "New York Stories" catalog (see story [7]).
In addition, jeweler Tiffany & Co. frequently uses New York as a backdrop for its campaigns or literally shoots campaigns in them.
For instance, one part of Tiffany's holiday campaign comprised a digital storybook of a carousel that comes to live in Central Park in Manhattan (see story [8]), and another part showed a couple frolicking around various New York hot spots including Central Park and the New York Public Library (see story [9]).
A likely reason why luxury marketers use New York as inspiration for campaigns is because it is known for its fashion-forward, affluent and trend-setting residents and tourists.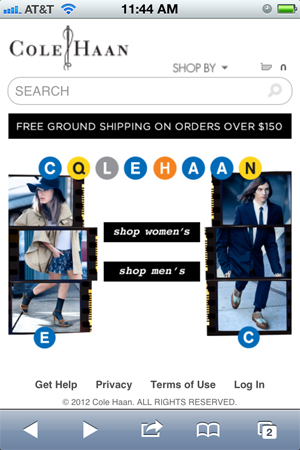 [10]
Cole Haan's mobile site
"New York is both a large market for sales and it is recognized as a center of style and fashion," Mr. Kurtz said. "It is also a major media market that will lead to national exposure."
Final Take
Rachel Lamb, associate reporter on Luxury Daily, New York