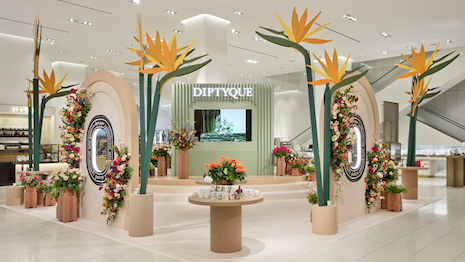 Jessie Dawes, chief marketing officer at Diptyque Americas, and Olivia Steele, president and CEO of Conversation Couture, joined 
Luxury Daily
 for the virtual event on April 27. Image credit: Nordstrom
As strategies become increasingly immersive and brands experiment with presence across platforms, clients have come to expect experiences that offer a mix of online and offline engagement.
Focusing in on the evolution of older omnichannel models, Olivia Steele, president & CEO of Conversation Couture and Jessie Dawes, chief marketing officer at Diptyque Americas joined Luxury Daily for a virtual event. A comprehensive introduction of the topic area is aired before expert perspectives are offered.
"[Phygital marketing] is the blending and practice between physical and digital marketing strategies to create a seamless and immersive customer experience," said Jen Woodring, vice president of customer experience and brand collaborations at Luxury Portfolio International, Chicago.
"Omnichannel has been a buzzword for years now, and I've been reading that the terminology is fading," Ms Woodring said. "At the end of the day, the consumer is channel-less."
"So strategies need to have a 360 approach that is cohesive, intentional and convenient."
The April 27 "Let's Get Phygital: Balancing the Physical and Digital Personas" webinar was moderated by Ms. Woodring.
Phygital benefits 
On the topic of the accessibility of digital platforms versus the exclusivity typically displayed in person on behalf of luxury brands, Ms. Steele points out that a certain degree of immediacy triumphs older models, offering today's players an advantage.
"Why are there so many emerging brands right now?" Ms. Steele said.
"[It's] because they believe that they're doing something different [from] everybody else," she said. "It's imperative that that's showcased when it comes to your store, whether it be online or in-person immediately."
"The beauty of the virtual online world is that you can capture that immediately, you don't have to wait for them to come in anymore to capture a luxury-level experience."
"Luxury in and of itself weeds out the masses," Ms. Steele said.
For Ms. Dawes, digital equals discovery, and factors in all types of access, including those who can afford luxury goods but are limited by, say, location (see story).
"Being digital today is tablestakes for all brands," Ms. Dawes said.
"To me, digital breaks down those barriers and actually makes luxury discoverable," she says. "The digital experience invites younger consumers into the fold, to participate, to explore luxury brands even if those brands might be a little bit more aspirational for them at that time."
"It allows us as luxury marketers to build that mindshare with consumers in ways that solidify a lifelong connection.
Digital expansion
Circling back to the webinar's starting point, Ms. Woodring aptly kicks off the online affair with a request for each guest to specify what the term "phygital" means within their respective realms of expertise, encapsulating the value of embracing multiple channels simultaneously.
Ms. Steele defines the concept as a trifecta.
"You have the goal of driving traffic, whether that [is] in-person or online," Ms. Steele said.
"Then you have the necessary technology to facilitate that, then the third tier is the necessary training in order to maximize both the technology and the traffic you've invested in," she said. "When we're thinking about driving traffic online, we're lucky if we get 12 seconds of someone's attention with an ad."
"Ninety-eight percent of people are doing research on your company before they're even stepping foot into your store physically, so it is imperative that brands jump onto this phygital bandwagon because it affects every other aspect of their business, [including] sales."
Conversely, over the course of a career that began in the buying department of womenswear line Eileen Fisher, Ms. Steele uncovered luxury's phygital lapses through more personal means.
"I discovered a pretty big skills gap in the luxury marketplace through my own lackluster experience online, so I cofounded my company," Ms. Steele said.
"We created the only virtual retail sales certification program worldwide," she said. "We educate on how to parallel an in-person shopping experience online to drive sales through the digital and virtual sales channels."
Having completed two months at Diptyque, Ms. Dawes hails from Japanese beauty group Shiseido as a vice president of marketing.
The former Austrian fashion label Helmet Lang and U.S. fashion label Theory e-commerce lead additionally brings experience as global digital marketing and North American media lead for Estée Lauder's Clinique to the conversation.
"[The phygital landscape is] holistic, comprehensive and integrated," Ms. Dawes said.
"It meets the consumer where they are, on the platforms that they prefer," she said. "The approach that I take here at Diptyque is completely channel-agnostic."