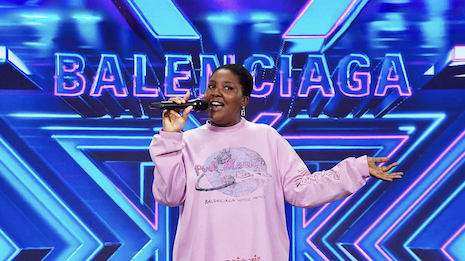 Nary a Balenciaga activation is run-of-the-mill, as Kering's golden child continues to prove its uncompromisingly unconventional cool. Image credit: Balenciaga
Luxury Daily's live news for Sep. 15:

Balenciaga curates playlist, designs merch for new music collaboration
French fashion house Balenciaga is adding music to its extensive repertoire mix with the release of an Apple Music playlist and accompanying band merch.
---
Estée Lauder restructures brand portfolio in executive switchup
U.S. beauty group Estée Lauder is attempting to optimize oversight and operations by initiating major key internal shifts.
---
Matchesfashion introduces emerging designers in futuristic digital campaign
Online luxury retailer Matchesfashion is helping to shape luxury's future by giving up-and-coming designers a platform, going live with exclusive collections from its latest cohort.
---
Mytheresa reports accelerated growth, increased profits in Q4
Online luxury retailer Mytheresa has ended its fiscal year, as of June 30, 2022, on a strong note with solid fourth-quarter profits and an ambitious outlook for its next annual earnings.
---
Kering welcomes visitors to headquarters for European Heritage Days
French luxury conglomerate Kering is opening its maison doors to cultural immersion for the seventh year in a row.
---