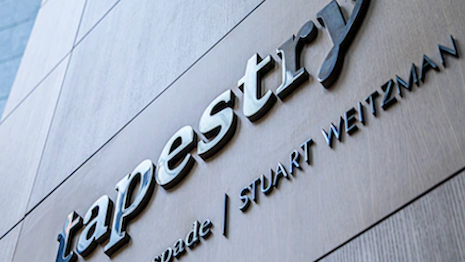 Tapestry's digital revenue thrived with a 20 percent increase year-over-year. Image credit: Tapestry, Inc.
Luxury Daily's live news for May 12:

Tapestry sees 13 pc revenue growth in Q3
U.S. fashion group Tapestry, Inc. has exceeded expectations, now on pace to return approximately $1.9 billion to shareholders in the fiscal year 2022.
---
Bloomingdale's partners with Dear Evan Hansen for Mental Health Awareness Month
U.S. department store chain Bloomingdale's is commemorating Mental Health Awareness Month by partnering with one of Broadway's most beloved musicals.
---
Rolls-Royce launches Phantom Series II, additional bespoke vehicle
British automaker Rolls-Royce has announced a new expression for its Phantom Series II, further elevating its flagship model.
---
Artsy partners with Tomokazu Matsuyama to benefit Asian American Arts Alliance
Global art platform Artsy is hosting an auction with Japanese artist Tomokazu Matsuyama and Kotaro Nukaga Gallery in honor of AAPI Heritage Month.
---
Cunard invites maritime archaeologist to speak on Queen Mary 2
British cruise line Cunard has tapped a renowned maritime archaeologist, Mensun Bound, to be an exclusive speaker for a summer series.
---