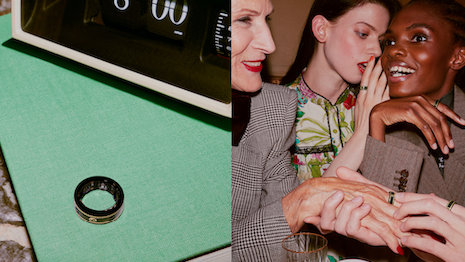 The Gucci x Ōura smart ring aims to increase mental and physical wellness. Image courtesy of Gucci
Luxury Daily's live news for May 26:

Gucci partners with health platform on tech-enabled ring
Italian fashion house Gucci has collaborated with wearable health platform Ōura to bring fashion and technology together as one in a new ring design.
---
Cartier taps Austin Butler as brand ambassador
French jeweler Cartier has added American actor Austin Butler to its growing roster of young celebrity ambassadors.
---
Burberry presents new summer monogram with Gisele Bündchen
British fashion house Burberry has revealed the next iteration of its TB summer monogram with a campaign starring renowned supermodel Gisele Bündchen.
---
Mulberry, Harrods join Ukraine relief consortium
British fashion house Mulberry and retailer Harrods are the latest companies to join the U.K. Ukraine Business Consortium network in support of refugees from the ongoing geopolitical crisis.
---
Etro appoints Marco de Vincenzo as creative director
Italian fashion house Etro has tapped Marco de Vincenzo to take over as its newest creative director, effective June 1.
---