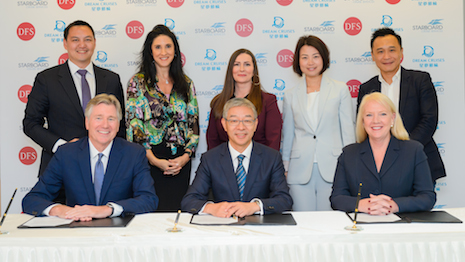 Signing ceremony for the tripartite deal: from left to right, DFS Group's Ed Brennan, Genting Cruise Lines' Kent Zhu and Starboard Cruise Services' Lisa Bauer. Image courtesy of Starboard Cruise Services and DFS Group
Luxury Daily's live news from Nov. 15:

Gucci plasters artwalls with dreamy, free-spirited images for Mémoire d'une Odeur scent
The new scent reflects Mr. Michele's vision of a universal fragrance that transcends gender and time, the company said. That is reflected in the artwalls in key cities worldwide.