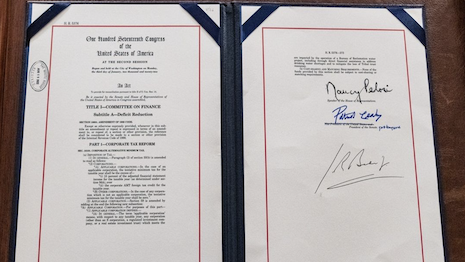 An image of the Inflation Reduction Act after it was signed into law, effectively combatting the climate crisis and reducing the deficit. Image credit: The White House
Luxury Daily's live news for Aug. 17:

Biden passes legislation mandating minimum corporate taxes domestically
President Joseph Biden signed the Inflation Act, a $750 billion healthcare, tax and climate bill, into law on Aug. 17.
---
Shopify promotes paid collaboration with new influencer vertical
Ecommerce platform Shopify has announced the debut of Shopify Collabs, a new offering that connects creators with merchants on its platform and gives them a new way to earn income.
---
Meta champions voter safety and election transparency
Media company Meta is putting safeguards in place for the upcoming 2022 U.S. midterm elections to play out on their platform in a transparent and secure manner.
---
Mikimoto unveils imaginative aquatic Costa Mesa boutique
Japanese pearl jewelry brand Mikimoto is reopening its Costa Mesa boutique on August 15 in California, the new space will showcase distinct jewelry designs and assorted cultured pearl jewelry.
---
Millennial demand drives perfume market
The global cosmetics perfume market size is projected to grow to $71.19 billion this year, according to the Business Research Company's perfume market research report.
---