London department store Harrods is looking to boost traffic and sales on its ecommerce site today through the "Opening Night" online event that kicks off its summer campaign.
With one physical location, Harrods is often thought of as a tourist destination for consumers who do not live in commuting distance of the store. But the "Summer of Now campaign," in addition to past efforts that drew international attention to its ecommerce site, could propel Harrods.com as a go-to shopping and content channel.
"Harrods.com's Summer of Now digital campaign is a nod to the imminent release of Baz Luhrmann's 'The Great Gatsby' movie," said Neil Borer, director at Harrods.com, London. "We have mirrored our unique in-store retail theater experience by creating engaging, exciting and memorable content for the Web site.
"Additionally, we wanted our summer campaign to be reflective of the key trends for spring/summer 2013 and with there being a great deal of embellishment, Art Deco and 1920s-inspired looks on the catwalk for the season, it seemed like the perfect concept to promote our summer occasionwear.
"Our take on the trend is The Summer of Now, celebrating the fabulous summer we're about to have by offering our customers the finest luxury products."
One night only
The Summer of Now virtual shopping event will offer attendees flash sales, giveaways and gifts with purchase for one night only to gear them up for summer.
The eight-hour event coincides with Harrods' month-long Great Gatsby in-store takeover. The windows showcase Baz Luhrman's film adaption and inside, consumers can visit the cocktail and jazz pop-up bar.
Great Gatsby store takeover preview 
Harrods began to tempt consumers to sign-up for email updates on the online event last week by releasing an invitation via email and social media. It told recipients to visit http://harrods.com/openingnight and follow the event via the #OpeningNight hashtag.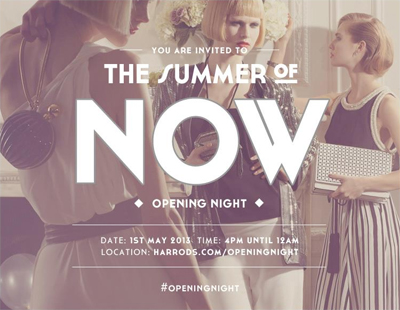 E-invitation
Beginning at 11 a.m. Eastern Time today, the event will commence to boast this season's fashion offerings on Harrods' ecommerce site.
For example, the retailer is launching a Great Gatsby-inspired shoppable video and spring edit during the event.
The video portrays the behind-the-scenes of the photo shoot for images that will be used on Harrods' ecommerce site homepage beginning May 2.
Video
There are also various giveaways during the shopping event.
When customers purchase any item from the Summer of Now wardrobe, they will be automatically entered to win tickets to a preview screening of "The Great Gatsby."
Attendees will also have the chance to win a 1920s-inspired Alice by Temperley "Erte" gown, an item exclusive to Harrods.com that is from the designer's unreleased fall/winter collection.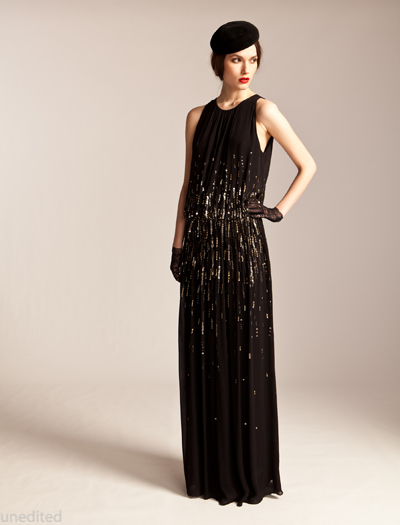 Erte gown
The first 25 customer to spend more than $232 during the event will receive a goodie bag that includes beauty and food items and a voucher for a Harrods restaurant.
"Harrod's Summer of Now online event is a great tie-in to this latest initiative surrounding 'The Great Gatsby' movie launch," said Brittany Mills, director of client services for B Culture Media, Atlanta.
"I think they are doing a great job of taking customers through that experience in stores and this is a nice reward for customers to now experience that online as well."
Clicking frenzy
Harrods regularly updates its ecommerce site to offer international consumers new experiences.

In October, the department store married fashion and food in a digital photography campaign called "Style to Savour" that transformed its ecommerce site into a stylish culinary experience.
Harrods featured images shot at its on-site cafes on each section of its site's parallax scrolling homepage and in a food-themed shopping guide during the month.
From the homepage, Harrods linked to a themed shopping guide that was split into five categories: Fashion Feast, Sicilian Style, Beauty Parlour, Appetizing Accessories and Fun Fare. It curated some of Harrods' fashion, beauty, gift and food products available for purchase online that matched-up with its famous on-site eateries (see story).
These month-long campaigns could prompt consumers to consider Harrods.com more often when they are shopping for apparel and accessories online.
Affluent consumers seek custom shopping experiences – not just high-end products – while using all commerce channels. Therefore, Harrods will showcase the site experience as well as its international shipping capabilities with these campaigns that have a global reach.
"When an event like this occurs, a brand wants to control the experience for a customer," Ms. Mills said. "Sometimes, that gets lost in-store and the whole story is not clear.
"When you create an experience like this online, you are able to direct the consumer in the desired path and make it a truly unique experience," she said.
"In this case, the customers are less distracted by other shoppers and lines, and they are more focused on the story and the products."
Final Take
Tricia Carr, associate reporter on Luxury Daily, New York