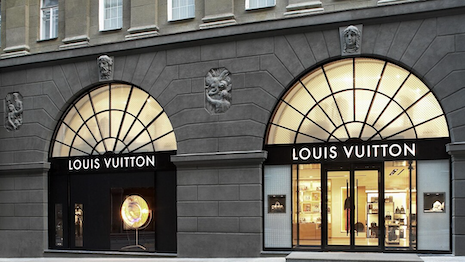 The Louis Vuitton boutique in Kyiv. Image credit: Louis Vuitton
With Russia's war on Ukraine well into its fourth week, luxury brands across sectors have publicly supported various relief efforts in the region and distanced themselves from Moscow.
Since the Russian invasion of Ukraine began on Feb. 24, luxury groups and brands have addressed the war by announcing charitable donations. Many have also ceased conducting business directly in Russia, even prior to sanctions from the U.S. and EU (see story), although luxury goods may still be available through wholesale partners.
The following is a list of announcements from luxury groups and brands regarding the war in Ukraine. It will be regularly updated.
Apparel and accessories

"We are increasing our support for charities and aid agencies providing much needed food, shelter and essential services to the millions of children and families impacted by the conflict in Ukraine," said Gerry Murphy, chair of Burberry, in a statement. "We will continue to look for ways we can help alleviate the suffering of communities caught in this appalling crisis."
Automotive

"Ferrari stands alongside everyone in Ukraine affected by this ongoing humanitarian crisis," said Benedetto Vigna, CEO of Ferrari, in a statement. "While we hope for a rapid return to dialogue and a peaceful solution, we cannot remain indifferent to the suffering of everyone affected."
"We are deeply saddened by the events in Ukraine," said Oliver Blume, CEO of Porsche, in a statement. "Many people are in need of urgent aid through no fault of their own. We are therefore making a contribution and supporting organizations that help the population on the ground."
Financial services

Food and beverage

Fragrance and personal care

Media and publishing

Travel and hospitality

Watches and jewelry

*this list was updated on April 21