Swiss watchmaker Jaeger-LeCoultre is using its sponsorship of the 68th Venice International Film Festival to market its iconic Reverso model and increase brand awareness.
Jaeger-LeCoultre will be presenting personalized products to select winners as well as financing the operations for children in Sudan. This is the watchmaker's seventh consecutive year as a sponsor.
"As the festival is a place to promote art, fashion, architecture and new trends, this is a sound strategy," said Rex Whisman, president of BrandED Consultants Group [2], Denver. "What a better way to promote your brand than with a product that fits in with the event's long history and tradition.
"It's a partnership that has a history, and where brands get themselves in trouble is if they don't have a relationship and are trying to use an event or high-profile situation to create buzz or awareness but is not believable," he said.
"Sometimes brands get in a panic and think that these are the only ways to showcase their identity by partnering with an event or celebrity but, in this case, it seems very natural, believable and logical."
Mr. Whisman is not affiliated with Jaeger-LeCoultre, but agreed to comment as an industry expert.
Jaeger-LeCoultre [3], owned by the Richemont [4] conglomerate, was not able to respond by press deadline.
Have a heart
Jaeger-LeCoultre will be presenting the winners for best actress, best actor and the Golden Lion best film award with a personalized Reverso watch.
The watches will feature an engraving depicting a lion, the symbol of Venice and the inscription, "68. Mostra Internazionale d'Art Cinematografica."
Jaeger-LeCoultre has taken its sponsorship a step further by financing 10 operations at the Salam Centre, the center for heart surgery in Sudan, for children and adults suffering from heart diseases.
The center has been offering assistance to patients suffering from cardiac pathologies who otherwise would not get a chance to have free operations.
The watchmaker is showing its commitment to the project with a special-edition Reverso watch with the Centre's red heart symbol.
This project will be revealed in more detail at an exclusive event Sept. 1.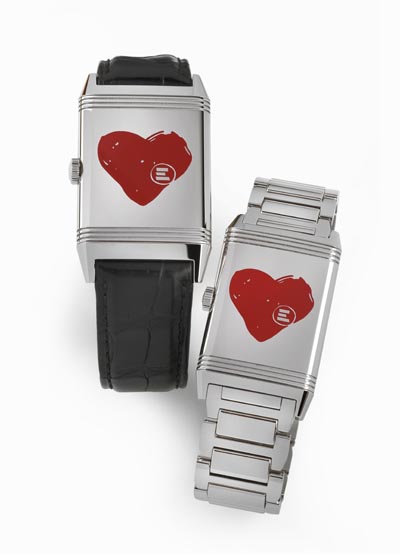 Reverso watch for Sudan Centre
Social savvy
Jaeger-LeCoultre has been marketing its partnership with the Festival via YouTube videos and Facebook updates.
While some brands tend to stay away from social media, Mr. Whisman believes that this strategy is actually advantageous for Jaeger-LeCoultre.
Indeed, the watchmaker celebrated the Reverso's 80-year anniversary with a treasure hunt on Facebook, where consumers use the social media site to take a quiz for a chance to win a watch or a trip to the manufacturer's headquarters in Vallee de Joux, Switzerland (see story [5]).
The company is trying to attract a contemporary, trendy crowd and Jaeger-LeCoultre does a good job of targeting that market through the videos, per Mr. Whisman.
Reverso video
"YouTube is a logical place to be, and as this event has a long history and how it is very trendy, very contemporary and very international, it is important to showcase your brand through contemporary media such as YouTube, Facebook and Twitter," Mr. Whisman said.
"The videos are in alignment with the brand, they are very professional," he said. "They are contemporary in their look and feel and it feels very European and Swiss.
"YouTube is at a crossroads because most people want something that feels sort of raw and not too slick, and their ads do a good job of that."
Final Take
Rachel Lamb, associate reporter on Luxury Daily, New York