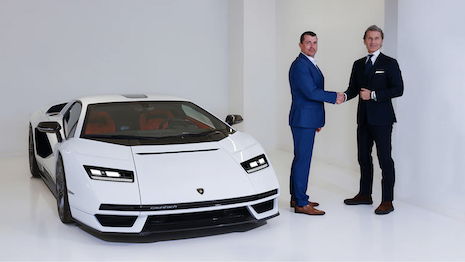 CEO of Champagne Carbon Alexandre Mea and CEO of Lamborghini Stephan Winkelmann met at Lamborghini's factory in Sant'Agata to introduce their new partnership. Image credit: Lamborghini
Luxury Daily's live news for March 17:

Lamborghini, vintner Champagne Carbon pair for lifestyle partnership
Italian automaker Lamborghini's lifestyle division is being infused with a new spirit.
---
Stella McCartney debuts world-first garment made from innovative reflective material
British fashion house Stella McCartney is putting a new sheen on its sustainability mission.
---
Zegna keeps in step with sustainability goals in latest outdoor collection
Italian menswear brand Ermenegildo Zegna is uniting with a new partner over a shared love of the natural world and the desire to preserve it.
---
Boosting consumption, economic stabilization among top agendas at China's 'Two Sessions'
Increasing domestic consumption demand is listed as the top task for China's government this year.
---