French fashion house Louis Vuitton is engaging consumers in a digital holiday experience on its Web site that is centered on symbols of luck and encourages users to create their own gift wish list.
The "Share Your Luck" campaign lets users spin a wheel of fortune and view gift items that correspond to each wheel spoke. As luxury marketers look to distinguish gift products on the digital channel during the holidays, Louis Vuitton seems to be tapping a universal theme to attract as many users as possible.
"I think that the strategy is to engage Louis Vuitton shoppers in a unique way during the holiday shopping season," said Brittany Mills, director of client services at B Culture Media [2], Atlanta. "Wishlists are pretty common across most retail sites, but it is enhancing that experience with this custom addition.
"I think the goal is to encourage users to share Louis Vuitton products this holiday season," she said. "What better way than to make those products become a part of a user's custom preference?
"Instead of sharing random products on the site, they get to make a personal wish list and share it for the holiday shopping season."
Ms. Mills is not affiliated with Louis Vuitton, but agreed to comment as an industry expert.
Louis Vuitton [3] did not respond before press deadline.
Luck of the draw
Louis Vuitton is telling visitors on its Web site to "choose items from the lucky rooms and create your wishing card. Luck comes to those who seek it!"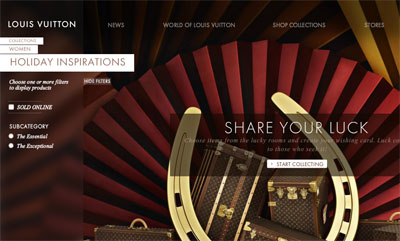 [4]
Share Your Luck homepage 
The rooms are the four sections of the wheel of fortune that each show a collection of gifts.
The initial section of the wheel is gold. Users can click on each spoke to view a different product or image.
The first few spokes show a message from Louis Vuitton. The English version ends by stating, "Louis Vuitton offers to send along a lucky talisman. A little secret something that will charm a smile from Lady Lucky:  a horseshoe, a four-leaf clover, a wishbone or a lucky number …"
Additional spokes reveal items including the Gracieuse belt, Monogram Wallpaper Square scarf, Déesse bag and Curieuse wallet.
[5]
Belts 
Next, the black spokes show products such as the Lockit Monogram Transparent bag, Majestueux bag, Charms bracelet, Sanaga pump, Alma BB bag and the Favorite clutch.
Most items on the wheel are displayed in the shape of or intertwined with one of the four lucky symbols. For example, the Favorite clutch is draped on a gold wishbone.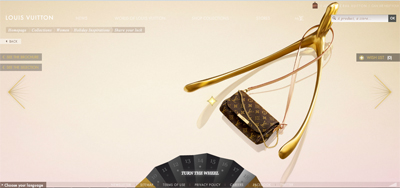 [6]
Favorite clutch 
Remaining items on the bronze and red sections of the wheel include handbags and clutches in a variety of materials and prints, city guides, jewelry, sunglasses, belts and key chains.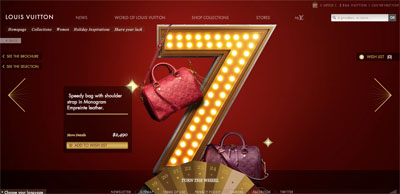 [7]
Speedy bags 
Seasonal sell
Louis Vuitton often lets consumers interact with its products through digital experiences housed on its Web site.
For instance, the label brought attention to the history of its classic monogram pattern in a video series that depicted well-known personalities discussing their experiences with the print.
Personalities featured included head of special order Patrick Louis Vuitton, artistic director Marc Jacobs and actresses Catherine Deneuve and Cate Blanchett.
The videos were presented together in a patchwork format on Louis Vuitton's Web site, likely so that the label could control the content presented to affluent consumers on the digital platform (see story [8]).
In addition, Louis Vuitton showed consumers how to pack all three of its classic bags with a virtual demonstration and do-it-yourself experience called the Art of Packing that it pushed within the travel section of its Web site.
The experience showed the functionality of its Alzer, Pégase and Keepall suitcases as well as items that are necessary to bring on a trip such as small travel cases and apparel in an interactive experience (see story [9]).
The new digital experience could enhance how consumers shop for holiday gifts, but Louis Vuitton should be sure that its next effort is optimized for tablets.
"I think it is an engaging digital destination and showcases its products really well," Ms. Mills said. "The sharing features are present which is what will drive the overall adoption rate.
"However, I was a little disappointed that this feature was not available on my iPad," she said. "A lot of online shoppers shop directly from their iPad.
"I believe that users engage with applications like this while they are just browsing sites, and to not have it accessible to tablet users is a big issue and it is losing a large number of possible customers."
Final Take
Tricia Carr, editorial assistant on Luxury Daily, New York