Jeweler Tiffany & Co. is pushing gifts and engagement rings in a multichannel campaign to catch consumers who are making purchasing decisions for Valentine's Day.
Tiffany is promoting its What Makes Love True campaign and its engagement rings on multiple platforms including social media, print and digital to try to entice affluent couples. The jeweler is also pushing a selection of Valentine's Day gifts through its social media platforms and its Web site.
"Given the significance of Valentine's Day for the Tiffany & Co. brand, this multichannel campaign is strategically sound and extremely relevant," said Elizabeth DeMaso, managing director at Clutch Collective, New York.
"For a brand that is synonymous with love and romance, it is a very effective use of dollars," she said.
"The campaign invites the world to participate and celebrate the joy of love."
Ms. DeMaso is not affiliated with Tiffany, but agreed to comment as an industry expert.

Tiffany did not respond by press deadline.
Season of love
Tiffany is making use of multiple platforms to show off what it has to offer for Valentine's Day.
The jeweler placed print advertisements in Condé Nast's Town & Country's 2013 spring/summer wedding issue and the February issue of Robb Report. It also took out an ad in the January issue of Condé Nast's Architectural Digest.
Tiffany ad in spring/summer Town & Country Weddings
The brand was likely aiming to target affluent consumers as a last minute reminder for Valentine's Day gifts.
In addition, Tiffany has been promoting a limited-edition post card specifically for Valentine's Day. The jeweler mentioned the postcards through its Facebook page and Twitter account.
Facebook post
The postcard is an extension of its What Makes Love True campaign that it introduced in 2012.
Tiffany solidified itself as an authority on love with the True Love in Pictures feature where consumers can upload images that are made into a postcard.
True Love in Pictures invites consumers to upload images of themselves and others in love for other users to comment and "like." However, this effort takes the interaction to the next level with physical postcards that are mailed to consumers across the country (see story).
Furthermore, Tiffany's homepage on its Web site is keeping with the Valentine's Day theme as there is a cupid animation in the background and links to its various heart jewelry and Valentine's Day gifts on the side.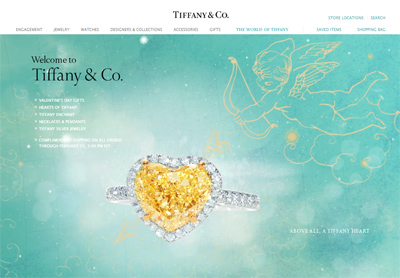 Tiffany's homepage
Gifts of love
Tiffany also is promoting special Valentine's Day gifts for customers who are not getting engaged, but still want to celebrate the holiday by giving gifts.

The gifts listed on Tiffany's gift list range from $125 for the Return to Tiffany Heart Tag Bracelet to the Jean Schlumberger Sixteen Stone Ring for $33,000.
In addition, customers can click on the Drop a Hint feature on Tiffany's Web site while browsing any product to tell someone what they want.
Tiffany has been pushing the Drop a Hint feature through social media posts as well.
The jeweler has a strong digital presence already, so the extra promotions for Valentine's Day and the additions to its What Makes Love True campaign could help the brand stand out during the holiday.
"The What Makes Love True campaign has been receiving high praise, so adding this new dimension for Valentine's Day makes perfect sense," Ms. DeMaso said.
"At a time when securing big-ticket sales like engagement rings is at stake, there is great value in owning the territory," she said.
Final take
Erin Shea, editorial assistant on Luxury Daily, New York