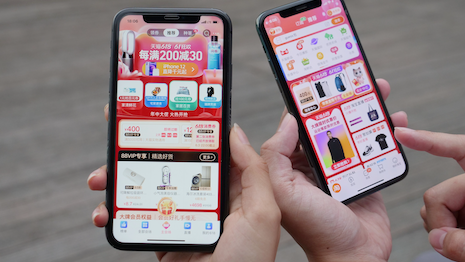 Due to ongoing challenges with the COVID-19 pandemic, Alibaba's explosive growth is slowing down. Image credit: Alibaba
Luxury Daily's live news for Aug. 4:

Alibaba revenue plateaus for first time since 2014
Ecommerce giant Alibaba is seeing revenue flatline for the first time since going public in 2014, however, shares in the company increased Thursday morning.
---
Tapestry shifts executive leadership as COO leaves post
U.S. fashion group Tapestry, Inc. is promoting Scott Roe to chief operating officer of the company as Tom Glaser announces his retirement.
---
Neiman Marcus appoints new president
U.S. retailer Neiman Marcus Group is tapping Ryan Ross as president of the Neiman Marcus brand, effective Aug. 15, 2022.
---
Bentley nears completion of rare Bacalar collection
British automaker Bentley Motors is approaching the final stages of production for its Bacalar model, which will include 12 vehicles within the collection.
---
ThredUp promotes female C-Suite leadership with new CMO
Online resale platform ThredUp is tapping Noelle Sadler as the company's new chief marketing officer.
---