United States shoppers are lagging behind the mobile tendencies of consumers in other markets, with 16 percent of Americans using mobile devices to shop compared to 50 percent in China, according to a new report from Havas Worldwide.
"The Digital and the New Consumer Report" found that 26 percent of U.S. consumers feel comfortable making purchases with their smartphones and 32 percent use mobile applications to facilitate in-store shopping. American consumers have been slow to embrace the escalating mobile efforts of retailers, while locations with larger populations of millennials such as China, India and Singapore have been more adaptable.
The Digital and the New Consumer Report 2013 was conducted in association with research partner Market Probe. The report surveyed 10,219 adults in 31 countries, representing a combined population of more than five billion.
Time is bright
Thirty-nine percent of participants in developed countries were counted as millennials while this segment constituted 57 percent of participants in emerging countries.
The report took into consideration prosumers, those consumers who anticipate and help to shape what comes next in the retail world.
Thirty-eight percent of global prosumers and 22 percent of global mainstream consumers have used a smartphone to shop online.
Sixty-four percent of Chinese consumers 54 percent of Indian consumers are comfortable using a smartphone to shop.
Comparison shopping, researching products and other mobile-enabled tasks are regularly used by 74 percent of Chinese consumers and 62 percent of Indian consumers.
Nordstrom mobile app
The top three reasons for shopping in-store are being able to try on items, able to get products faster and the help offered by salespersons.
The top four reasons for shopping online are 24/7 accessibility, convenience, better pricing or deals and easy price comparison.
Possibilities of security breaches cause 78 percent of consumers to worry periodically when shopping online. One in 10 Americans worry every time they place an order online and are less concerned overall than their global counterparts.
Three-fifths of global respondents trust the credibility of online peer reviews. Eighty-seven percent of Chinese consumers trust their peers compared to 58 percent of US consumers.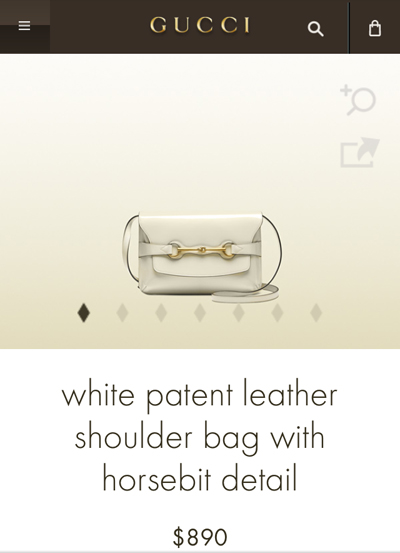 Gucci mobile site
Consumers in the report are broken down according to their digital propensities. The categories are digitally disassociated, digitally divided, digitally experimental and digitally integrated.
Talk it out
While U.S. consumers may be slow to embrace mobile for shopping, consumers still use digital platforms to discuss for other matters.
Eighty-eight percent of prosumers do a lot of online research online before shopping as opposed to 71 percent of mainstream consumers.
Non-branded blogs have impacted the purchasing decisions of 51 percent of prosumers and 34 percent of mainstream consumers over the last year.
Brands should also ensure that digital channels are diligently monitored. Fifty-nine percent of prosumers and 45 percent of mainstream consumers are annoyed if brands don't respond quickly on Facebook, twitter or another social media channel.
Other studies have found an increase in consumers use of digital platforms as well.
For example, almost all consumers who are planning to buy luxury in the next year communicate through digital platforms and 88 percent of these adults use social media platforms, according to a new report from the Shullman Research Center.
The "Social Networking Among Luxury Purchasers" report found that affluent adults who buy luxury goods are more likely to communicate with friends and family through digital and social media platforms compared to their non-luxury buying counterparts. Luxury brands should find which platforms their target consumers are active on to make sure they are getting their message out in the most effective way (see story).
Final Take
Joe McCarthy, editorial assistant on Luxury Daily, New York