With the volatile political climate in the Middle East haunting tourism, are luxury hotels throughout the region doomed to poor business or are areas of conflict contained from causing a widespread decline?
The crisis occurring in Syria has burdened neighboring nations with displaced citizens and Egypt's hostile situation has wounded a tourism sector that had played an integral role in its economy. As the ongoing events cast a dark shadow over the luxury travel industry in the area, hotels need to find a way to safely increase foot traffic.
"The worldwide tension is growing each day and travel is ultimately affected," said Damon M. Banks, director of DMB Public Relations, New York.
"Syria is a big topic with more questions than answers and this follows the weeks of unrest in Egypt just to the west, travelers cannot help but further evaluate their travel plans," he said.
Mixed numbers
According to the United Nation's World Tourism Organisation, tourism in the Middle East has increased 13 percent in the first half of the year, per Hotelier Middle East. While the growth has been uneven and warrants closer scrutiny, the spike may come as a surprise considering the long-standing turmoil in the region.
For example, Dubai has seen an 11.1 percent increase in tourism during the first half of the year compared to the year-ago period. Throughout the region countries have welcomed an additional 25 million international travelers compared to the year-ago period.
However, Egypt's tourism industry that accounted for 11 percent of the country's gross domestic product, received a crushing blow following President Morsi's removal from office in July. Hotel reservations are expected to drop 80 percent for Egyptian properties along the Red Sea and countries such as Russia and Italy have issued travel warnings against Egypt, according to the Daily News Egypt.
Four Seasons Hotel Cairo at Nile Plaza is running at 12-17 percent occupancy rates, The Wall Street Journal reports. JP Morgan Analysts estimate that the country is losing $400 million a month in tourism, per Skift.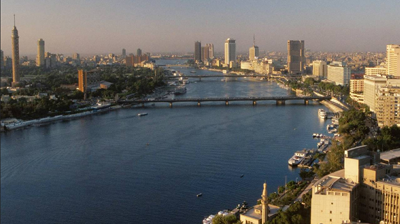 Four Seasons Hotel Cairo at Nile Plaza
The dismal tourism numbers in Egypt are unlikely to change anytime soon, but properties in nearby countries should broadcast their isolation from danger.
"Chances are the average luxury travel is well aware of the current situation in the Middle East," said Taylor Rains, account executive at Rawle Murdy Associates, Charleston, SC. "It's important for a luxury brand to recognize the circumstances and not feign business as usual.
"Properties need to ease concern by touting the safety and security of both their hotel and the surrounding area, noting that the location is a vacation destination isolated from the pockets of unrest in the region," he said.
"It's really a matter of being upfront in speaking with the consumer and letting them know that the Middle East they see in the headlines is not representative of the region as a whole."
Expansion as usual
Amidst the regional strife many luxury hotels are betting on strong Middle Eastern markets and have recently pursued new developments.
For instance, Hotel chain Ritz-Carlton entered the Israeli market with plans for a property in Herzliya to capitalize on an increase in the country's tourism and its growing technology sector.
The Herzliya, Israel property will open at the end of 2013 and marks the latest in a string of luxury enterprises that cater to the growing Middle-Eastern and African market. As the first global luxury hotel in Israel, the hotel chain will likely develop enduring brand loyalty among consumers who are drawn to globally-endorsed properties (see story).
Beach in Herzilaya, Israel
Additionally, Fairmont Hotels & Resorts diversified its presence in Saudi Arabia with 316 luxury residences for both rental and sale located above the Fairmont Makkah.
The Emaar Residences span 12 floors at the top of the hotel and are located in the most populous province in Saudi Arabia. Since Makkah's capital is Mecca, Fairmont aims to attract religious travelers who have embarked on pilgrimages or who simply want to plant themselves in a spiritual area (see story).
Abraj al Bait Towers
Displaying a commitment to expansion in the Middle East may persuade wary travelers to visit.
"Despite the relatively steady unrest experienced in the Middle East during the past decade, the region has continued to grow as a luxury tourist destination," Mr. Rains said.
"One factor that has contributed to this growth is the marketing of individual destinations within the Middle East in conjunction with traditional hotel promotions," he said.
"Places like Dubai and Tel Aviv have benefited from marketing strategies aimed at positioning them as prime vacation destinations."
What about air?
One way to counteract the stigma that may be affecting Middle Eastern hotels is to emphasize insularity.
If travelers are reminded that luxury hotels are sealed from trouble in the vicinity, they may receive a boost of confidence.
Emirates Executive jet
Luxury private jet companies face a distinct dilemma, since they often cater to business travelers going to riskier areas.
"With this ongoing situation in the Middle East, it is affecting business travel more than luxury especially with the summer coming to a close," said Adam Hasiak, global private aviation director at SkyNet Aviation Group, Boca Raton, FL.
"When SkyNet Aviation Group's executive clients engage in international business travel, especially in the Middle East and North Africa region they tend to be in destinations and places off the beaten path, hence using business charter," he said.
"This is why we have seen an increase in expat charters out of hostile environments compared to luxury travel where the travel tends to be in safe, well secured and intimate private destinations in the Middle East."
Final take
Joe McCarthy, editorial assistant on Luxury Daily, New York