Luxury marketers in some categories are leaving out rich media from their mobile advertising strategy and missing out on engagement and conversion.
Fashion and jewelry brands have been stingy on incorporating rich media into their mobile ad placements and are relying on static ads to attract consumers to optimized commerce sites. But experts agree that adding rich media such as video, social integration and augmented reality will increase engagement and conversion rates from mobile ads.
"Mobile is certainly a great platform to reach users on the go, but I think the real benefit will be a move away from static ads to mobile rich media," said Michael Goldberg, senior director of marketing and communications at Martini Media, New York.
"It's becoming more and more evident that rich media mobile ads can vastly improve upon this level of user engagement," he said.
They want more
This year, luxury marketers are placing static mobile banner and takeover ads to attract the attention of affluent smartphone users.
For example, Italian brand Giorgio Armani started off the year by driving mobile commerce through a takeover ad on Condé Nast-owned Vanity Fair's mobile Web site.
The ad featured an image of a female model wearing Armani apparel and a button that read "Shop now." The ad popped up when consumers accessed Vanity Fair's mobile site from their smartphone and it led to the brand's optimized commerce site (see story).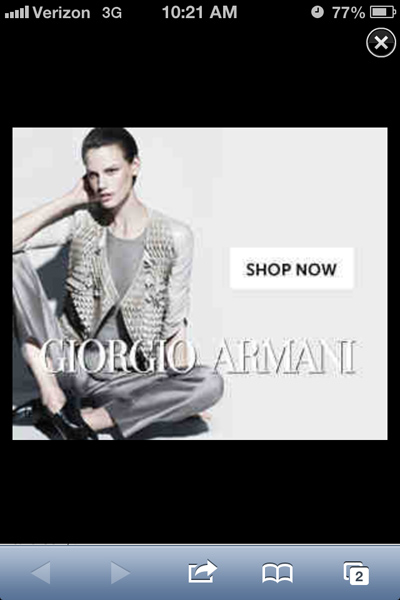 Armani ad 
Last month, department store chain Barneys New York also looked to boost mobile commerce through an ad placement on The New York Times' mobile site. It displayed the Barneys logo and the call to action "Shop now."
The ad appeared on the main page of the Fashion & Style section and linked to Barneys' optimized site (see story).
Also, Tiffany & Co. triggered engagement with mobile users through a banner ad on The New York Times that let consumers proceed to the jeweler's site or download one of its applications.
The majority of the ad was solid Tiffany blue. The call to action "visit Tiffany.com" led users to the jeweler's mobile site, but once iPhone users arrived, a pop-up window invited them to download the Tiffany & Co. Engagement Ring Finder or the What Makes Love True mobile apps (see story).
Going forward, marketers should move beyond static ads to get the most from their mobile ad spend.
"Luxury brands are all about elegant simplicity," Mr. Goldberg said. "Static banner ads, with their limited canvas for creativity, do not do these high-end products justice.
"With video and social integration, high-impact, rich media helps marketers like fashion and jewelry brands showcase their products so they stand out," he said.
"The ads literally jump off the page with the beautiful imagery associated with slick magazines, but with sight, sound and motion to boot," he said.
Give them video
Engagement and conversion rates are likely to increase when luxury marketers add rich media to their mobile ads, per Melody Adhami, president and chief operating officer of Plastic Mobile, Toronto.
The post-ad site visit rate is three-times higher with rich media in comparison to standard banner ads, according to MediaMind research.
Also, the click-through rate is six-times higher with mobile video ads.
"In industries where mobile advertising is an afterthought to an already existing marketing plan, static ads are the norm," Ms. Adhami said. "They are cheaper, faster and easier to produce.
"If mobile is not a priority, then it stands to reason you are not going to devote resources to it," she said. "However, as mobile advertising becomes more widely used and the numbers become more and more compelling, we think the use of rich media across all markets will grow dramatically."
Luxury automakers are leveraging the rich media trend to make their ads more effective as video becomes a surefire tactic to attract affluent consumers.
For instance, German automaker BMW raised the bar for mobile advertising among luxury marketers with a campaign that consists of video content and Google Maps integration.
The ads show the various i concept vehicles driving along the ad space and, using a smartphone's GPS, a Google Map of the area where the mobile users is located.
The ads link to a BMW Web site that gives users a virtual test drive of an i concept vehicle (see story).
Luxury marketers in the apparel and accessories and jewelry categories  should move beyond static ads in ways similar to automakers, but tailor their content to the habits of their customers on mobile.
"[Rich media ads] will be able to do their products justice," Martini Media's Mr. Goldberg said.
"In some cases, new rich media features like augmented reality, which integrates a user's computer screen with the ad, will allow that user to virtually try on a piece of jewelry or fashion accessory," he said.
Bottom line
Rich media can help consumers distinguish which brands are high-end on the mobile advertising front.
If a luxury marketer wants to come off as a brand worth exploring on mobile, it should use modern advertising tactics that make it a pioneer on the channel.
Fashion and jewelry marketers look to brand themselves as forward-thinkers in design and craftsmanship. They can benefit from taking the same approach to mobile.
"It doesn't make sense for luxury brands to associate themselves with practices and vehicles that are below industry standards of design and customer experience," Plastic Mobile's Ms. Adhami said.
"It's only logical that luxury brands would want to align themselves with the best possible marketing efforts and channels to reach their discerning and increasingly digital forward audience," she said.
Final Take
Tricia Carr, editorial assistant on Luxury Daily, New York