Swiss watchmaker Audemars Piguet is using the highly-trafficked 34th Street Heliport in New York to hook super-affluent consumers who use the private jet terminal with what it calls a custom "domination program."
Audemars Piguet's domination program at the Heliport will include exclusive placement on both interior and exterior signage. The watchmaker already has placement in several aviation terminals, solidifying the link between fine watchmaking and aviation.
"Quite simply, Audemars Piguet clients are some of the most well-traveled," said Frederick Martel, vice president of sales and marketing for Audemars Piguet in North America, New York. "They lead very busy personal and professional lives and [are] constantly on the move.
"We want to be wherever they are – be it while on a business trip or personal vacation – and the branding on the heliport tarmac, inside FBO terminals or in luxury hotels around the world consistently connects us to our existing and potential clientele," he said.
Audemars Piguet's advertising at the Heliport is handled by Roaring Thunder Media, which handles marketing in global private jet terminals.
Bird's eye view
Audemars Piguet's marketing in the Heliport includes five back-lit interior static duratrans, a digital monitor, an exterior vinyl building wrap featuring the Royal Oak Offshore 44mm model and four Royal Oak wall clocks in the terminal.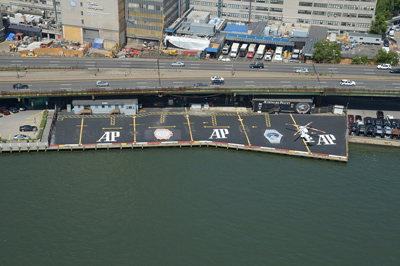 View from the top
Also featured are tarmac signage on five heliport bays including three Audemars Piguet logos and images of the Extra-Thin Royal Oak Tourbillon in stainless steel and the Royal Oak Chronograph in rose gold.
These commemorate the brand's iconic design for the 40th anniversary, according to Mr. Martel.
"2012 is a significant year for the brand with the 40th anniversary of the Royal Oak, our most iconic collection," Mr. Martel said. "The placement of product visuals and logo in a location with such high-net-worth travelers makes a significant statement and reinforces the introduction of commemorative timepieces in the collection."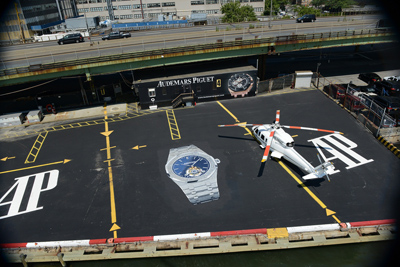 Audemars Piguet ads
Audemars Piguet has also been hosting a traveling exhibition of never-before-seen museum pieces in New York, Paris and Milan for these pieces.
The Royal Oak is also staking claim in the Loews Regency Hotel in New York and The World by Residensea. Audemars Piguet is the official timekeeper of the Four Seasons Hotel and of the Liberty National Golf Club in Jersey City, NJ.
"Traditional out of home media such as billboards, buses and poster advertising is commonplace and saturated by major brands," said John Kehoe, managing director for Out of Home International, London.
"We believe the strategy is for Audemars Piguet to stand out amongst its competitors and secure a premium platform to promote its luxury watches," he said. "The brand has placed itself on a site which is undisturbed by other advertisers and therefore can showcase the brand on a clear platform."
Taking flight
Audemars Piguet has a long relationship with aviation and markets in quite a few FBOs globally.
For example, the watchmaker's clocks are located in 36 Delta Air Lines terminals, NetJets headquarters in Columbus, OH, and 72 Roaring Thunder Media FBOs nationwide, according to the brand.
Since watchmakers and aviation both pride themselves on the inclusion of precision, technology and innovation in their core values, these two industries are also paired.
For example, Breguet targeted New-York based affluent consumers during an event in June that showed parallels between watch innovation and aviation while honoring 10 historical brand timepieces onboard New York's Intrepid Air, Sea and Space Museum (see story).
In addition, Swiss watchmaker Breitling auctioned the first model of its limited-edition Naval Centennial Airwolf watch in February to benefit the National Flight, which encourages science, math, engineering and technology education (see story).
"At Audemars Piguet, one of the three fundamental brand values is audacity," Audemars Piguet's Mr. Martel said.
"Audemars Piguet does not really concern itself with other brands' marketing initiatives as we have always been leaders in the luxury watch category and we felt that the domination program was authentic to the brand's DNA would appeal to our clientele and was very unique and unexpected for a luxury brand," he said.
Final Take
Rachel Lamb, associate reporter on Luxury Daily, New York