Many automakers rely upon recurring contests and trivia to remind consumers of their legacies and build social communities, but could these posts dilute their reputations?
Since resource-intensive social media ventures can not be staged every day, it can be helpful for brands to broadcast history with fast-paced trivia. However, it is important to ensure that this practice doesn't slide into a gimmicky sideshow that distracts from the brand's luxury status.
"It is important for brands to connect with consumers, especially in the premium lines," said  Lauren Fix, automotive expert and author of "Lauren Fix's Guide to Loving Your Car," Lancaster, NY.
"It builds new customers, creates a community and keeps the brand in front of owners and buyers," she said. "The current media outlets are short, but bringing people back to your site is the smartest way to get new Web site hits, unique viewers and increase awareness.
"Social media is the lowest cost way to accomplish this marketing outreach."
Social trivia
Finding meaningful ways to connect with brand loyalists and emerging fans on social media can be complicated due to the instantaneous nature of most platforms.
Posting images of various models and events provides fans with an occasion to aspire, but it does not enable interaction or foster a sense of community as other kinds of posts can.
While posts explaining a vehicle's development during a brand's history may come off as didactic, posts that test consumer knowledge or call for personal testimonies can have a fraternal and inviting tone.
One of the more common ways automakers have overcome social media's short-attention span is with specialized questions.
Mercedes-Benz #TuesdayTune
Such questions allow brand loyalists to tout their knowledge, bond with fellow fans and promote an environment of exclusivity.

Lamborghini Twitter feed
Additionally, these activities provide a straightforward way for brands to communicate with followers on regulated issues.
A brand is also able to convey its history without coming across as heavy, which can help to sustain its luxury reputation.
"[These contests] are not important, but it is one way for a brand to get prospects involved," said Al Ries, founder and chairman of Ries & Ries, a Roswell, GA-based marketing strategy consultancy.
"Unless a prospect is ready to buy a new car, he or she is unlikely to be interested in reading all the details of the current models," he said. "But old models are different.
"Consumers who love cars are always interested in the historic automobile vehicles."
Were you there?
Another tactic automotive brands have employed to spur fan participation is with guessing games that educate fans on current models.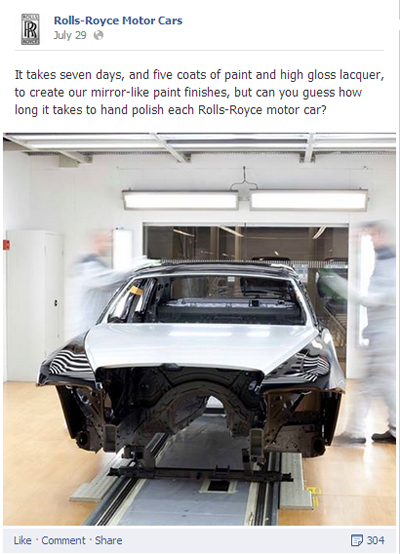 Rolls-Royce Facebook page
This type of game brings fans to the forefront of a brand's activities and reminds consumers of the skill that goes into making luxury products.

Rolls-Royce Twitter feed
Although shout-outs to the past establish a brand's roots, it's equally important to find engaging ways to showcase innovations.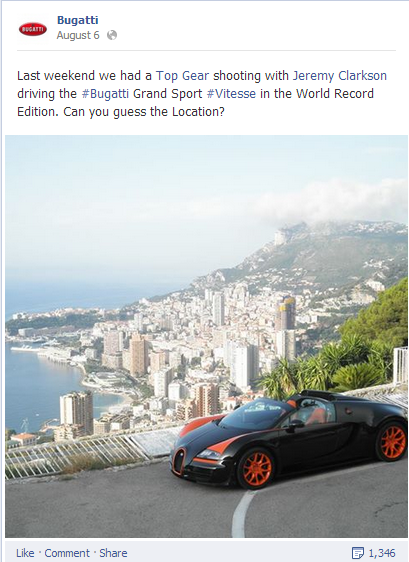 Bugatti Facebook page
Accompanying automotive events or promotional tours with social media trivia can help brands increase the amount of followers actively engaged.
Ultimately, all forms of social media trivia allow brands to gauge how effectively its audience is being reached.
"If consumers participate in the contests, that shows they are interested in cars in general," Mr. Ries said.
"Consumers figure that any brand that has been around for several generations must be pretty good," he said.
Out of the ordinary
Although maintaining a daily and diverse social media presence is important for brands, bolstering ordinary posts with more substantial content is what sets brands apart from one another.
Many luxury automakers have devised innovative ways to engage social media users.
For instance, Toyota Corp.'s Lexus is broadening its cross-media campaign for the 2014 Lexus IS with an interactive microsite that encourages fans to create an "Amazing Mix" for a chance to win tickets to the 2014 Pebble Beach Food and Wine Festival, overnight accommodations and $2,000.
The Amazing Mix microsite enshrines the 2014 Lexus IS on a raised platform and lets users experiment with a number of inputs that transform the screen. Promotional campaigns that ask for greater involvement among younger fans may generate future customers since they help to create memorable brand connections (see story).
Similarly, BMW of North America is enabling brand enthusiasts to adorn their lives with BMW accessories and share aspirational buys with friends through a Facebook social shopping application.
The German automaker's BMW USA Social Shop app is a fully contained shopping experience that allows consumers in the United States to purchase and share products ranging from wallets to bike racks. The app will likely appeal to consumers with its simple shopping experience and social functions (see story).
For all social media ventures, brands should carefully groom the image they present.
"Longevity is important in brands like automobiles," Mr Ries said. "So it's generally a good strategy for an automobile brand to promote its history."
Final Take
Joe McCarthy, editorial assistant on Luxury Daily, New York