Department store chain Barneys New York is boosting its mobile commerce efforts through an advertisement placed on The New York Times' mobile site.
The ad appears on the main page of the Fashion & Style section on the mobile site and links to Barneys' mobile-optimized site. Barneys has placed mobile ads before, but its ads are more effective now by linking through to a mobile optimized site.
"Given the demographics of the New York Times reader, extending advertising to mobile makes perfect sense for luxury brands," said Jeff Hasen, chief marketing officer of Hipcricket, Seattle.
"Beyond smartphones, tablets are an ideal option given the lean-back nature of the activity and the time tablet users take in applications and are on Web sites," he said.
Mr. Hasen is not affiliated with Barneys, but agreed to comment as an industry expert.
Barneys did not respond before press deadline.
Simplicity in shopping
The ad that Barneys placed on the New York Times mobile site has a simple design. It displays the Barneys logo and an easy-to-read call to action that says, "Shop now."
New York Times mobile site
The banner ad was placed at the top of the Fashion & Style section so Barneys is likely reaching its target audience there.
A click-through on the ad leads consumers to the Barneys mobile optimized Web site where users can search by categories and purchase products directly from their mobile devices.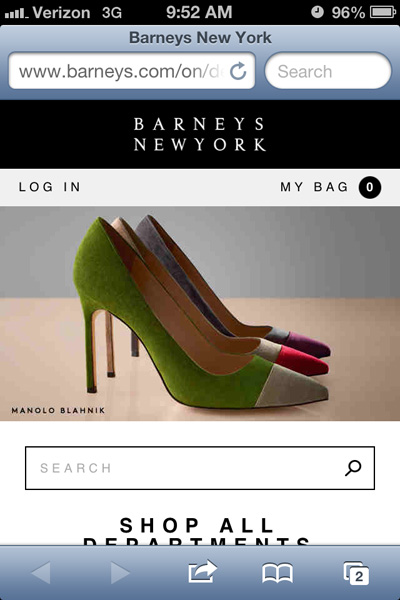 Barneys mobile site
The categories are easy to read and the mobile site is not cluttered with additional content.
Users have the option to search or shop by department, which are listed out on the mobile site.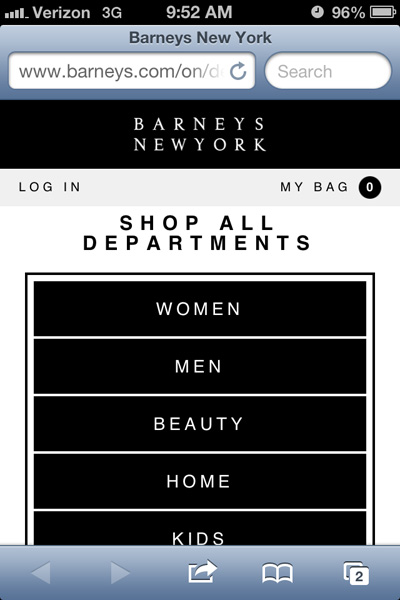 Shopping options
Also, users can sign into their accounts, view their shopping bag, contact customer service, find a physical location with the store locator or view the full Web site all from the mobile site.
One step at a time
Barneys has recently been paying attention to its mobile strategy and is making progress.
The ad that it placed on the New York Times mobile site was the same banner ad that it also placed on Condé Nast-owned Vanity Fair's mobile Web site this past fall.
However, Barneys likely missed out on transactions since the ad linked to a section of Barneys' pinch-and-zoom ecommerce site (see story).
In October, the retailer solidified its mobile savvy through a new responsive HTML5 site that offers consumers the same exclusive inventory that can be accessed on its Web site, as well as lets shoppers sort by gender, color, style and designer.
The mobile site aims to make the shopping experience seamless and allows consumers to search quickly and easily, filter, find and purchase their favorite products.
In addition, Barneys rolled out a full set of digital tools for shopping and sharing (see story).
Now, the retailer is likely getting a better response from its mobile ads with the addition of the link to its optimized site.
Offering a mobile-optimized site is a solid strategy for most retailers, since consumers are on mobile devices. This is especially important for luxury retailers.
"Zappos and others have proven that shoppers no longer need to go into a physical store to try on and buy," Mr. Hasen said.
"For luxury brands especially, it is about convenience and service, especially if a shopper decides a product is not right," he said.
Final take
Erin Shea, editorial assistant on Luxury Daily, New York