SAN FRANCISCO – Brands must radiate emotion through imagery to stay relevant in an image-driven society, according to an Ogilvy executive at the ad:tech San Francisco 2013 conference.
During the "Pinterest, Instagram & Tumblr: How to build, maintain and measure your customer base" session at the ad:tech San Francisco 2013 conference, industry executives discussed the importance of visual communication and what this can mean for brands. Since people communicate visually, compelling images on social media platforms could translate into more Web site traffic and revenue.
"Modern brands speak in hues, composition and form," said Maury Postal, associate creative director for Social@Ogilvy, Culver City, CA.
"These images represent the idea that people have always communicated visually," he said. "Consumers will remember where they saw [these images].
"An idea that an image conveys must transcend ordinary language."
Worth 1,000 words
Since people communicate visually, it is important for marketers to embrace the platforms that allow them to brand visual content.
Pinterest, Instagram and Tumblr are all visually driven social media platforms and can help create strong campaigns when used by brands. However, they serve different purposes and are used in different ways by consumers.
Tumblr is an active space and has more than 89 million posts per day, according to data presented in the session.
Since it is still considered a social network, brands should make sure to build and maintain relationships through Tumblr.
"[Tumblr] is based on microcommunities that are based on passions," said Ali Turner, social media specialist at LeapFrog Interactive, Louisville, KY.
Tumble posts have more staying power than Facebook posts since users can search Tumblr by tags, Ms. Turner said.
Another visual platform, Instagram, is one of the fastest growing channels. It currently has 100 million users who are active and it is mobile.
"Since it is mobile, you can reach customers in that moment of life when they may not be at their desktop," Ms. Turner said.
In addition, Pinterest is a visual platform where consumers spend a lot of time on.
The average user spends approximately 90 minutes on Pinterest, compared to 18 minutes on Facebook, per Ms. Turner.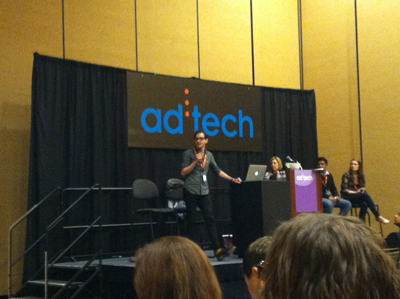 Mr. Postal at ad:tech
On board
Many luxury brands have already been using Pinterest, Instagram and Tumblr in marketing campaigns.
For instance, Department store chain Nordstrom engaged social-savvy newlyweds through a Pinterest contest to win a gift card and a honeymoon package at certain JW Marriott Resort properties.
Nordstrom partnered with JW Marriott Resorts to offers newly-married couples the chance to win a $4,000 Nordstrom gift card and a five-night honeymoon to a participating JW Marriott property with spa treatments and breakfast included (see story).
Also, fine jewelry maker David Yurman leveraged its brand's presence on Instagram by incorporating customer images into its spring collections push.
The jeweler added an Instagram element to its spring campaign to capture consumers' own styling of its collections via the #DavidYurman hashtag (see story).
Overall, images are extremely important to marketing campaigns since they ignite emotions in consumers and can help consumers create relationships with brands.
"We are now empowered to provide this stuff that people want to interact with," Social@Ogilvy's Mr. Postal said. "We have embraced this culture that people want to communicate visually.
"Simply having an image on a screen makes you want to ask questions," he said.
Final take
Erin Shea, editorial assistant on Luxury Daily, New York