British apparel and accessories brand Burberry's soon-to-be CEO Christopher Bailey has triggered doubts owing to his creative background, but his collegial relationship with departing company boss Angela Ahrendts and extensive credentials should nullify the skepticism.
Mr. Bailey has spent 12 years absorbing the brand's ideology and helped to spearhead its transformation throughout the past decade. Furthermore, passing the executive baton to a close collaborator of Ms. Ahrendts allows Burberry to continue its trajectory as a design-driven and digitally pioneering brand without interruption.
"In Bailey you have someone who can handle the job," said Milton Pedraza, CEO of The Luxury Institute, New York. "He's worked with Ms. Ahrendts and has learned execution from her.
"They worked in a very good partnership that shared decisions and execution," he said.
"Change always happens because of the marketplace, but Burberry will continue on its track of being customer-centric and having a customer culture driven by digital."
Not that disruptive
Burberry announced Oct. 15 that Ms. Ahrendts would be leaving the brand by mid-2014. Mr. Bailey will take over her position while maintaining his current role as the chief creative officer. Ms. Ahrendts will join Apple next spring as chief of the electronics giant's retail and online stores.
Prior to Burberry, Mr. Bailey worked as a designer for U.S. label Donna Karan and Italian fashion house Gucci, where he was recruited by fashion designer Tom Ford.
Mr. Bailey arrived at Burberry in 2001 and has played an instrumental in restructuring the brand's image, while advocating for an embrace of technology. In the past year, Burberry has demonstrated its digital prowess several times.
For instance, the brand partnered with Apple to showcase its upcoming spring/summer 2014 collections through images and video captured on the new iPhone 5S. Leading up to Burberry's spring/summer show Sept. 16, the brand posted images and videos from the iSight camera on the iPhone 5S (see story).
Burberry Facebook post for iPhone 5S collaboration
Also, Burberry engaged consumers in branded peer-to-peer communications through a partnership with Google where users sent loves notes around the world. The label created a microsite for the Burberry Kisses campaign that let consumers send and view notes that have been sent (see story).
In a video outlining the fashion house's executive transition, Ms. Arendts describes the strong management team and global infrastructure that Burberry has developed over the past eight years that will prevent the brand from falling from its expansionary climb.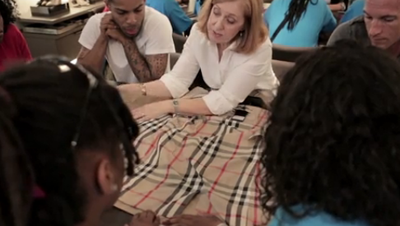 Video still
Also, Ms. Ahrendts explains that her initial dream for Burberry to become a company bigger than any one person has been fulfilled.
"I don't think Ms. Ahrendts just built a company," Mr. Pedraza said. "She built a culture that will outlive her and Bailey was a big part of that."
Mr. Bailey echoes the assessment of the brand's unified departmental and regional teams in the video. In addition to its digital gains, the brand has transformed itself into a formidable retailer over the past several years.
Christopher Bailey to be appointed CEO and chief creative officer of Burberry
Revenues climbed 16.8 percent to $1.59 billion, reflecting double-digit gains in all regions, and high-single-digit comparable growth in China, per WWD.
According to the Telegraph, Mr. Bailey is the person most responsible for Burberry's elevation from a moribund and musty provincial backwater of a British brand into one of the world's most lucrative and best-known.
"Bailey is already responsible for Burberry's image,"  said Chris Ramey, president of Affluent Insights, Miami, FL. "I don't expect much change.
"Moving a creative officer into the CEO position is a welcome change," he said. "Most companies experience a power struggle between marketing and accounting."
Doubts abound
Some experts are concerned that Mr. Bailey's background as a designer has failed to adequately prepare him for the role of CEO, with no prior boardroom-level experience.
Skeptics should look around.
Ralph Lauren and Giorgio Armani are two prominent examples of a figure handling both the creative and executive responsibilities. However, these designers share entrepreneurial roots that set them apart from Mr. Bailey, who only has experience as a designer.
Following the Oct. 15 announcement, Burberry's stock dropped 8.8 percent, according to WWD. This initial dip was countered by Burberry's release of strong year-to-date sales numbers.
Burberry's decision to look internally for a replacement indicates that it does not want to shift course.
"Lots of creatives rise to the management roles," said Marie Driscoll, CEO and chief consultant at Driscoll Advisors, New York. "It's Angela's career arc as well as Mickey Drexler at Gap and Jenna Lyons at J. Crew.
"Bailey has been integral to Burberry for years, so I wouldn't expect drastic changes as the business is humming," she said.
Final take
Joe McCarthy, editorial assistant on Luxury Daily, New York