French atelier Chanel is trying to define perfection with promotions for its new Perfection Lumière Velvet foundation that promises a velvety complexion.
Consumers are guided to a natural complexion through a tutorial video. When a new cosmetic product is released the tutorial approach can help recreate the in-store experience for busy consumers who may prefer to buy through ecommerce channels.
"Video tutorials pull prospects in to ensure the proper use of foundation," said Chris Ramey, president of Affluent Insights, Miami, FL.
"This will be important to a certain audience," he said. "Chanel understands that the videos serve separate customers."
Mr. Ramey is not affiliated with Chanel, but agreed to comment as an industry expert.
Chanel did not respond by press deadline.
Picture perfect
Chanel has introduced its new Perfection Lumière Velvet foundation on its social media pages where it has included still campaign images, a tutorialized video with brand make-up artist Lisa Eldridge as well as a social video.
In Chanel's social video the product is not shown until the final frame. Instead, the video focuses on the model's face to show off her complexion.
During the approximately minute-long video, the model is shown with bare shoulders from the chest up and slicked back hair against a black background. The video then changes to different angles of her face while she wears a white t-shirt.
The campaign video includes a caption with copy reading "perfection has never been so light."
Perfection Lumière Velvet - Chanel
Chanel has also shared a tutorial video featuring its resident makeup artist, Ms. Eldridge. The copy for the tutorial explains that Ms. Eldridge will show consumers how to achieve a "perfectly natural complexion" with the Perfection Lumière Velvet foundation.
The video tutorial is titled "Lesson in lightness No.1" with Lisa Eldridge and shows Ms. Eldridge applying products to a model's face. As Ms. Eldridge applies Chanel's cosmetics she speaks of the benefits of Perfection Lumière Velvet, such as its ability to create a natural, velvety matte finish on any skin type.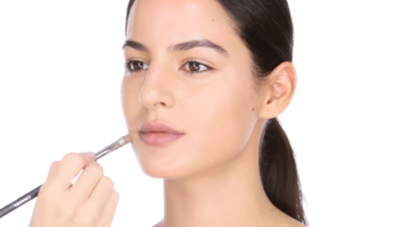 Lesson in lightness No.1 tutorial, video still 
As the consumer watches, Ms. Eldridge explains the types of brushes that should be used for application and where and how to apply Chanel's products. After the Perfection Lumière Velvet is applied to the model's face, Ms. Eldridge continues to complete the look with eyeshadow, eye pencils, mascara, Le Rouge lipstick, blush and nail polish.
At the end of the video, Ms. Eldridge mentions her own Chanel cosmetic look and encourages the consumer to tune in. When the first tutorial debuted April 9, the second look was not yet posted thus creating a sense of anticipation and increasing the likelihood  that consumers would return.
Chanel Makeup: Lesson in lightness No.1 with Lisa Eldridge
"Lesson in Lightness No.2," posted April 10, opens with Ms. Eldridge sans makeup.
Ms. Eldridge begins with a primer, as she did in Lesson in Lightness No.1 before she applies the Perfection Lumière Velvet foundation.
When her look is completed, Ms. Eldridge mentions that she has created a look for a model, but does not specify the title of the tutorial. This leaves open the possibility of a third installment using the Perfection Lumière Velvet foundation as a focal point.
Only the still campaign image includes a link to Chanel's Web site. A click-through lands on the maison's home page rather than a specific product page where the brand could have expanded the campaign with a digital initiative.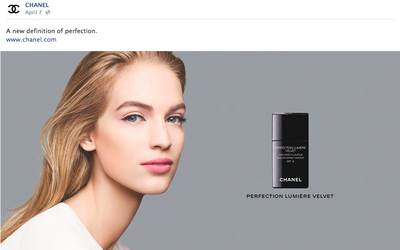 Perfection Lumière Velvet foundation, campaign still on Facebook
When the product page is visited, the consumer can view Perfection Lumière Velvet shades, watch the tutorials and campaign video and view products that go well with the new foundation.
Credibility
Similar to a celebrity ambassador, Chanel's repeated use of Ms. Eldridge in its tutorial videos establishes trust with consumers.
Chanel advertised its cosmetics collection through a video series titled "Makeup Revelations" that showcased insider tips by professional Chanel makeup artist Lisa Eldridge for enthusiasts who want to create a branded look at home.
The brand presents the video's content as a secret but is able to maintain a fun sensibility by pairing the tips with a lighthearted video featuring models gossiping about an unknown subject. By pairing educational content with a relaxed social video, a brand is able to hold the interest of the consumer while building awareness (see story).
In addition, the brand is pushed its Les Beiges Healthy Glow Makeup through social media and video promotions.
Chanel released two videos. One was a short commercial that showed off model Gisele Bündchen using the makeup and the other was a tutorial by makeup artist Lisa Eldridge (see story).
Although focus is vital to a campaign, age prejudice may occur in beauty tutorials that does not accurately display a brand's full consumer base.
"Focus is akin to alienation; can't have one without the other," Mr. Ramey said.
Final Take
Jen King, editorial assistant on Luxury Daily, New York