Auction house Christie's is furthering its ecommerce with its first online jewelry sale July 17-26 called "Summer Jewels" that features more than 100 lots from designers such Lily Gabriella Elia, Olivia Wildenstein and Marina Bulgari.
The sale contains a wide range of price points to entice multiple consumer segments and attract new customers to its ecommerce options. The auction house is increasing and diversifying its online sales to better showcase designers and consistently engage new consumers.
"As of summer 2012, Christie's has made a significant commitment to building our ecommerce platform to support online-only sales and has successfully piloted 20 online-only sales with great feedback and enthusiasm from our clients around the world," said Gabriel Ford, public relations coordinator at Christie's, New York.
"This model is an engine for future growth and helps us acquire new customers and extend our brand," he said.
"The Summer Jewels sale is a way for new collectors to collect jewelry at a variety of price points from new, contemporary designers."
New price points
The sale will feature items such as ear pendants, necklaces, bracelets and cufflinks.
Christie's hopes to attract younger consumers by stretching out the price range of products.
Lots in the auction come from a variety of artists.
Brazilian born designer Lily Gabriella Elia's collection features various colors of gold.
Lily Gabriella-amethyst, diamond and gold necklace
The main pieces from Keemee designer Olivia Wildenstein include a citrine and diamond Bonbon ring, a garnet and diamond Bonbon ring  and a pair of cultured pearl and diamond Coeurs Enlacés ear pendants.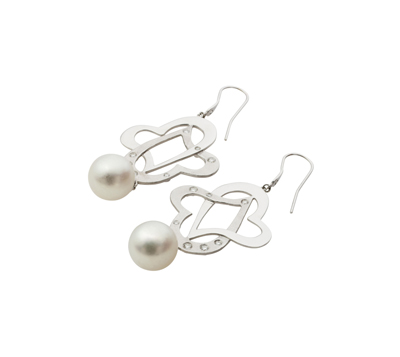 Coeurs Enlacés ear pendants
The sale extends the auction house's growing commitment to online sales. Several more online sales are scheduled for the summer.
Online sales calendar
By showcasing exclusive products with a wider price range, the auction house may be able to attract a new consumer group without diluting its luxury status.
In addition, the online aspect opens up Christie's to a number of consumers who may not be able to physically attend an auction.
Side projects
Christie's may have only recently accelerated its ecommerce options, but they have been interested in expanding to new platforms for some time now.
For example, Christie's had released a mobile application for Android and updated its iPhone version in another step in its journey toward real-time mobile bidding back in 2011.
Christie's was aiming to increase brand awareness among younger generations and become more accessible to its current consumers through these mobile and digital efforts. The app is available for free in Apple's App Store and Google's Android Market (see story).
Although online sales can successfully gain new consumers, they are still an auxiliary component for the auction house.
"The online-only sale platform was piloted with our sale "Elizabeth Taylor Online" where 54 percent of bidders in the sale were completely new to Christie's," Mr. Ford said.
"We view this as exciting investment for growth and look forward to hosting online-only jewelry sales as a complement to our traditional calendar of live auctions around the world," he said.
Final Take
Joe McCarthy, editorial assistant on Luxury Daily, New York