Italian fashion label Fendi teamed up with blog The Coveteur to showcase the Fendi pieces stylist Elizabeth Stewart owns.
The Coveteur takes its readers into the homes of personalities, to showcase favorite fashion and lifestyle pieces, usually from a variety of brands. This post will likely stand out due to its Fendi-centric theme, showing the blog's fashion-minded audience that Fendi can constitute an entire wardrobe.
"Content marketing is becoming one of the most important channels for digital marketers," said Yuli Ziv, founder/CEO of Style Coalition, New York.
"In the past luxury brands have been reluctant to experiment with it in fear of losing control of the message, so it's great to see Fendi being open to this integrated approach," she said. "This allows the brand to talk to the audience of luxury aficionados through the influential voice of The Coveteur, versus a top down message of traditional advertising."
Ms. Ziv is not affiliated with Fendi but agreed to comment as an industry expert.
Fendi did not respond by press deadline.
Coveted collection
Fendi posted about its collaboration on Facebook to drive its fans to check out another one of its aficionado's "hauls."
Facebook post from Fendi
The Coveteur's copy talks about how Ms. Stewart's large collection of Fendi pieces is enviable and references the stylist's work with best-dressed regulars Cate Blanchett and Jessica Chastain.
In the opening image, Ms. Stewart stands in her garden wearing a dress and sunglasses from Fendi's spring/summer 2014 collection. Following images show a Baguette handbag sitting atop a bowl of lemons and Bag Bugs hiding in bushes.
The Coveteur photo set of Elizabeth Stewart
Shoppable links correspond to each photo, and take consumers to the individual product page on Fendi's Web site. The brand does not have an ecommerce option available, so these give an idea of price and more information.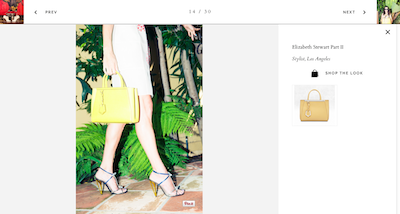 The Coveteur Elizabeth Stewart slideshow
Throughout the feature, Ms. Stewart opens up about her fondest memory wearing Fendi, favorite karaoke song and who she thinks the Fendi woman is.
The Coveteur has a strong fan base, with more than 100,000 Twitter followers.
Built-in audience
Partnering with fashion blogs gives brands access to an audience of consumers who are sartorially inclined.
Department store chain Bloomingdale's asked consumers to help style blogger Danielle Bernstein for Fashion Week live on Instagram to encourage comments and participation with the retailer on the photo-sharing social media platform.
During the event on Feb. 5, fans could vote on items of clothing as Bloomingdale's posted photos, contributing to We Wore What blogger Ms. Bernstein's final look. Through this event, Bloomingdale's was able to encourage participation and comments from its followers on social media, and generate traffic due to the blogger's following (see story).
Fendi also introduced the lesser-known faces behind its runway show with a Twitter series featuring selfies of the crew.
Fendi's #FendiCrew series began following the brand's fall/winter 2014 runway show on Feb. 20, as part of the brand's detailed backstage content. The way that these photographs were captured show the subjects' personalities without a filter, allowing the brand to connect with consumers on a personal level (see story).
Fendi mentioned its collaboration on the content on social media, but there was no mention of the brand's involvement on the Coveteur, which may have helped consumers recognize Fendi's place in the post.
"Content marketing is a process brands need to engage in on an ongoing basis, so it's hard to say if one feature will create any dramatic results," Ms. Ziv said. "However it is great to see a leading luxury brand like Fendi showing openness to the idea.
"Having a stylist endorsing the brand elevates the message and creates trust among the audience," she said. "It also makes the brand message seamlessly integrated into the editorial content, making it a contextual fit. Perhaps disclosing the content as a collaboration will help the readers to identify the piece as such."
Final Take
Sarah Jones, editorial assistant on Luxury Daily, New York