Italian automaker Ferrari is letting savvy consumers explore the four-seat FF vehicle through lifestyle videos and technology demonstrations in a model-specific iPad application.
Consumers can configure a car, view adventure videos starring the FF, see the model on different terrains and uncover technological secrets. Similar to other luxury automakers, Ferrari is devoting a mobile app to a particular model likely in hopes that consumers will increase their knowledge of the FF and consider making a purchase.
"The strategy was doing something innovative to get in the hands of the luxury consumers who want to experience a Ferrari or purchase one in the future," said Carrie Chitsey, CEO of 3Seventy, Austin, TX. "I think given there are not Ferrari dealerships in most towns it is a good way to provide a virtual experience and extend the brand.
"The goal is to drive the consumer to go into a dealership or purchase," she said. "Given this is not a small-ticket, impulse decision, it will take more than the app to make this prospective consumer purchase.
"But, if Ferrari rolls out new features within the app, uses in-app messaging and captures consumers' information when they download the app, it is a great lead-generation tool."
Ms. Chitsey is not affiliated with Ferrari, but agreed to comment as an industry expert.
Ferrari did not respond before press deadline.
Vroom for growth
The Ferrari FF iPad app is available for free in the App Store. It is compatible with iOS 5.0 or later and is exclusively in English.

The main screen of the app is split into four rectangles. Each shows an image of the FF that represents a section in the app including Configuration, Emotion, Ferrari Four and Design & Technology.
Within the Configuration section users can design their own FF model. They can toggle between the exterior and interior of the model.
Exterior customization options include paint color, wheel rims and brake calipers. Users can also change the interior leather color.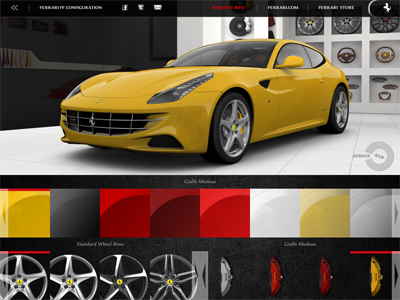 Exterior configurator 
Users can share their customized FF model via Facebook, Twitter and email.
Another section of the app is Emotion. Subsections include the Best Shots image gallery and Behind the Wheel videos.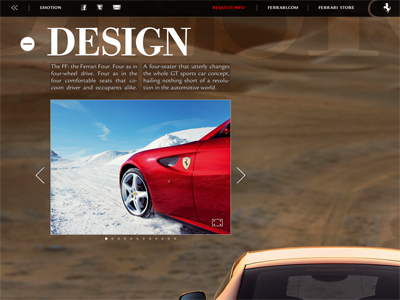 Best Shots section 
Users can view the Ferrari FF on road trips to destinations such as Tierra del Fuego, Finland and Abu Dhabi.
Official FF video
Also, the Ferrari Four section shows the vehicle's strengths if driven during a long trip. Three subsections show the FF driving to skiing destinations, in route on intercontinental tours and holding a large amount of luggage.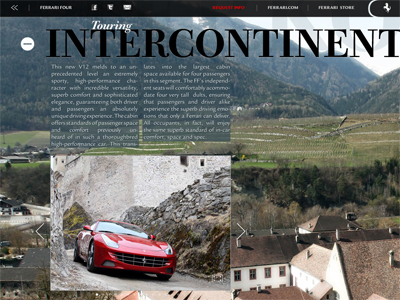 Intercontinental tour image gallery 
Lastly, the Design & Technology section lets users navigate through a detailed description of the FF model. It is split into subsections including Exterior, Interior, Technology Innovations and HMI.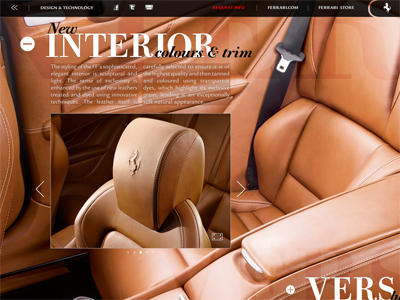 Interior section 
A stagnant toolbar at the top of the app screen lets users navigate around the app, request more information, visit Ferrari.com and find a Ferrari store.
"Originally, Ferrari only targeted its race cars to other teams and then extended to more target markets such as privately-owned race cars and high-performance road cars," said Isabella Lin, content director at Appitalism, New York.
"Ferrari is targeting very rich people with its high-performance road car generally over the age of 30 who want to have a good high-quality, high-performance car, which will distinguish them from all other cars and drivers on road," she said.
"However, Ferrari decided to open up its target market through this Ferrari FF app for iPad, and it not only reaches very rich clients, but also not-so-rich clients who might want to buy the best Ferrari model if they can afford it."
Vehicle app-eal
Other luxury automakers are developing mobile apps dedicated to a particular model.
For instance, British automaker Bentley Motors released its first iPad app dedicated to the Continental GT and GTC models earlier this year that lets users design their own vehicles and shows history via films, photography and stories.
The Bentley GT V8 app includes a customization tool called the Visualiser that lets users change a model's color, wheels, hood color and interior. It also contains a photo gallery, videos and specifications for both models (see story).
Also, Toyota Corp.'s Lexus added mobile to its multichannel push for the 2013 ES 350 with a model-specific iPad app that lets consumers test driving functions and compare the vehicle with competing brands.
This is the automaker's second model-specific app that gives users detailed comparisons to similar models from other luxury brands, but the ES 350 app contains additional interactive functions (see story).
"In some industries, luxury marketers should develop an app-per-line, depending on the industry situation and its trend," Ms. Lin said. "This app does more good than harm for Ferrari.
"As automakers have extremely complex products with targeted design, the birth of each individual model is a new miracle, and an app-per-line can be the best way to show each individual model's own characteristics and personality," she said.
"This app-per line will help consumers to experience more specific and detailed information, and enables consumers are more focused this new model."
Final Take
Tricia Carr, editorial assistant on Luxury Daily, New York