Fly Blade, a new high-end transportation service, is taking the stress out of traveling to the Hamptons by chartering helicopters from New York to Long Island's east end.
With congested roadways and limited train seats available, affluent consumers looking for a quick weekend getaway do not want to sit in Friday afternoon traffic. Fly Blade is designed to save consumers time and aggravation by creating any easy way to book travel plans to and from the Hamptons.
"I believe that it's the success of Uber that has given rise to these types of services," said Melody Adhami, president and chief operating officer of Plastic Mobile, Toronto. "Blade isn't the first mobile app that's extended the Uber convenience model to the air, but the trend is growing because it works.
"The affluent demographics that Blade is targeting has a much higher smartphone penetration than the average populace, and all of our user research of the past 3 consecutive years has revealed that the urban affluent demographic doesn't put a limit on the size of the transaction they will comfortably complete on their smartphones," she said.
Ms. Adhami is not affiliated with Fly Blade, but agreed to comment as an industry expert.
Fly Blade did not respond by press deadline.
Beat the traffic
Currently, Fly Blade only operates helicopter flights from New York to the Hamptons. With train rides taking over two hours and highway traffic being unpredictable, especially on a summer weekend, Fly Blade's service will attract affluent consumers who plan to spend the weekend enjoying the beaches, special events and lifestyle of the Hamptons.
To operate its flights, Fly Blade has partnered with Liberty Helicopters, a provider of owned and operated helicopters in the Northeast.
Using the Blade mobile application consumers can search Fly Blade's schedule to find a time that fits with their plans. With just three taps, the consumer can book their helicopter flight and be on their way.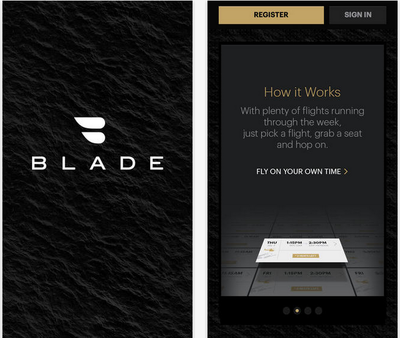 Welcome screen of Fly Blade's Blade app 
With helicopter flight times only averaging 35 minutes, the process allows the consumer to focus on other tasks.
For consumers who need a helicopter at times unavailable on the schedule due to a conflict or full bookings, Fly Blade offers a crowdsourced option. The consumer can use the app to crowdsource a helicopter to leave at a specific time and if all seats are not accounted for, the seats are then opened to the Blade community.
In the case of bad weather or another reason for cancellation, Fly Blade will automatically make other arrangements for traveling to the Hamptons. In this case, the consumer will be driven by a chauffeured Maserati to their final destination without any additional cost.
"The Maserati substitute is Blade's commitment to the promise of luxury as well as a guarantee of service," Ms. Adhami said. "It adds value by reassuring clients that they will arrive at their destination without any additional effort on their part.
"Not only are they guaranteed arrival, they don't have to sacrifice on luxury," she said.
Map and schedule page on the Blade app 
The service is also personalized with an email from general manager, Evan Licht upon sign-up, informing the consumer that Mr. Licht is available at all times, should a problem arise. An icon at the top right corner of the app screen will automatically call the Blade team as well.
With multiple flights to East Hampton, Southampton and Montauk daily, consumers can expect to pay $575 per helicopter seat, each way. Flights depart from terminals on West 30th Street and East 34th Street.
Fly Blade's Blade app is available for free download for Apple and Android devices.
Hamptons state of mind
Summer in New York for affluent consumers is synonymous with the Hamptons, causing many brands to launch summer programs that align with weekend getaways.
For example, Uber, a mobile on-demand request tool for private drivers, celebrated its launch in the Hamptons by offering ultra-affluent New Yorkers the chance to book a private helicopter service through the company's mobile application.
The company introduced UberChopper exclusively for the Fourth of July weekend to boost its presence in the Hamptons, a posh getaway two hours from New York. On July 3, UberChopper gave a limited number of New Yorkers the chance to book a helicopter ride and door-to-door private car service to a location in the Hamptons through the mobile app (see story).
Also, online retailer Net-A-Porter boasted its same-day delivery service for customers in the Hamptons through out-of-home advertising on plane banners that flew over the area.
The retailer partnered with Standard Hotels' private air charter service StndAIR to make same-day delivery possible. Net-A-Porter likely caught the attention of Hamptons-goers by flying a banner on a plane around the area (see story).
With time being the hottest luxury commodity, affluent consumers will likely appreciate the ease of Fly Blade.
"Convenience is luxury," Ms. Adhami said. "The affluent user is no different than any user in that they will gravitate towards the path of least resistance.
"If you remove the barriers and friction to any task, including booking a flight, you will undoubtedly see a spike in task completion," she said. "The affluent consumer is different in that they're willing to pay more for convenience and ease of use.
"The three tap checkout is something we've been practicing since the dawn of mobile commerce and today it's the standard expectation of users."
Final Take
Jen King, editorial assistant on Luxury Daily, New York