High-end flash-sale site Gilt Groupe's announcement to sell the non-luxury Volkswagen Jetta questions whether the brand has clear standards in place, since the move is a stray from its typical repertoire.
In addition to Jettas not being luxury vehicles, Gilt is dropping $10,000 from the price of the cars sold at Volkswagen dealerships. This product not only strays from Gilt's modus operandi, but some wonder whether the deal may dilute the retailer's clout as a luxury brand.
"We are always told to think outside of the box, but when luxury brands define themselves, they should stay inside of that box," said Ron Kurtz, president of the American Affluence Research Center, Atlanta. "Luxury brands should have clear standards about what they are selling.
"This inconsistency is going to confuse their audience," he said.
Gilt Groupe is an eretailer devoted mainly to the sales of women's apparel and men's apparel and accessories from designer brands.
Out of the ordinary
Gilt justified the initiative by saying that the brand curates the best possible insider deals for its consumers.
The Jetta's marked-down price is only available to Gilt members and cannot be found anywhere except on the Web site.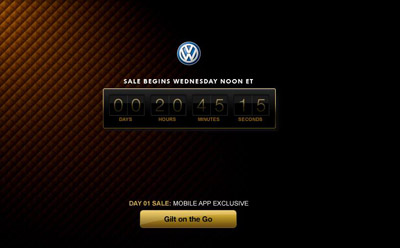 Gilt's countdown until the sale
"The 2011 Jettas are stylish and top-of-the-line," said Marshall Porter, vice president of business development at Gilt Groupe, New York.
"Volkswagen is an established company," he said. "The car fits in with the rest of Gilt's products because the company's focus is to get the best possible deals for our members."
Despite Gilt's reasoning, American Affluence Research Center's Mr. Kurtz believes that it is best for a company to not only commit to a product line, but to stay within it in order to maintain the satisfaction of its customer base.
"I'm sympathetic to the idea of trying to expand a product line and testing new items," Mr. Kurtz said.
"Getting into auto in general is inconsistent for Gilt, but Jettas are not even luxury vehicles," he said.
Avoiding discount trends
Luxury brands have an appeal to all, but are only accessible to the elite. More discount eretailers, like Gilt Groupe and Rue La La, are popping up that offer discounted prices to their members.
However, if luxury items are offered at discounted prices, then they are able to be bought by more consumers and they lose their status.
Brands like Louis Vuitton and Hermes are known for their high prices, and the fact that they do not ever discount them.
The untouchable aspect is what makes these luxury brands so desirable.
Gilt is known for its discounts, but straying too far from its normal product line could cloud a consumer's view of the company, Mr. Kurtz said.
Although there are risks to this type of discounted strategy, there could be some benefits to a significant alteration of price and products.
Gilt's Mr. Porter said that Gilt's new product was from the company's curative nature. Gilt's main focus lies in having innovative and interesting deals that will satisfy its large customer base.
"It's fun and presents a great deal for our members," he said.
Gilt could also be testing to see how much their customers are willing to spend by starting with a low price and moving upwards.
Mr. Kurtz agrees that it's a good way to gain brand publicity and is a good tactic when trying out new product lines.
Luxury retailers Nordstrom and Neiman Marcus frequently offer member-exclusive discounts to their most valued consumers, and this publicity is beneficial for them.
"If it happens once in a while, major discounting can be considered fun and interesting if it's once in a while," Mr. Kurtz said. "It drives foot traffic and is a great way to spread business through word-of-mouth.
"It won't deplete a brand's value if it's a one-time kind of thing, but if it happens often, it can affect the value of a luxury company."
Final take
Rachel Lamb, editorial assistant at Luxury Daily, New York