London department store Harrods is bolstering ecommerce through digital shopping events that align with British Vogue's Online Fashion Week and include a "Hide & Chic" competition, silent auction and other exclusive offers.
The second annual Online Fashion Week runs Dec. 3-7. This week also marks Harrods' second year of participation during which the department store is offering a new event-related competition each day.
"Online contests are a great way to drive engagement and interaction with current or potential consumers," said Natalie Ney, account supervisor at iProspect, Chicago. "As brands encourage the target audience to participate in the contest, the audience instantly becomes engaged, helping to build a new or stronger relationship with the brand's consumers.
"In addition, contests drive interaction as they require some sort of participation from consumers and build anticipation with the final outcome," she said.
"A great strategy is to offer exclusive or custom-made prizes in the contest, which will likely resonate well with luxury consumers who respond positively to exclusive offerings."
Ms. Ney is not affiliated with Harrods, but agreed to comment as an industry expert.
Harrods was not available to comment before press deadline.
British Vogue has a total readership of 1,139,000 and a circulation of 205,033.
British Vogue December 2012 issue
Luxurious offers
Harrods is offering something new each day of Online Fashion Week through its Web site.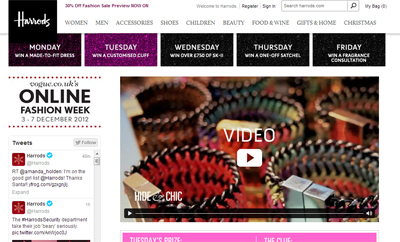 Harrods Web site
Monday's prize was a made-to-fit dress from Singapore-based brand Raoul's autumn/winter collection.
A mysterious clue for Monday's prize read, "Roll over Women in the top menu, you'll find today's competition amongst outfits for a party."
Tuesday's prize was a customized cuff from London jeweler Bex Rox. The clue was similar and prompted users to roll over the accessories tab on the top menu of the Web site.
The remaining prizes were announced on Harrods' Web site, but the click-throughs are not enabled until the corresponding day.
Wednesday's prize is approximately $1,200-worth of SK-II skin care products.
Thursday's prize is a limited edition Cambridge Satchel Company bag, while Friday's prize is a fragrance consultation with perfumer Roja Dove.
Harrods is also featuring other exclusive offers for Online Fashion Week.
Kate Hudson's Jenny Packham purple, sequined gown is being auctioned online.
Ms. Hudson wore the gown to the annual White House Correspondents' Dinner in April. The dress is a British size 8.
Jenny Packham dress
The bidding started at approximately $400. The winner will be notified Dec. 10.
The money bid on the dress will go to the Macmillian Cancer support organization in England.
In addition, Harrods is giving complimentary engraving on select Monica Vinader Fiji bracelets when ordered via telephone.
Monica Vinader bracelets
Also, makeup artist Lori Woodhouse will show off her makeup techniques that she uses on models.
Pass it on
The department store promoted the online event on its Web site, Facebook and Twitter accounts.
On Twitter, Harrods is using the hashtag #OFW that stands for Online Fashion Week.
Harrods tweet
Social media promotions for the contest could help it grow in a viral way.
"This is an excellent way to gain new fans, engage with current followers and encourage viral growth of the contest," Ms. Ney said.
Also, the contest will likely help Harrods boost its ecommerce.
In particular, the Hide & Chic competition encourages browsing on specific sections of the Harrods Web site.
"This means participants must browse the site before they can enter, which ultimately encourages them to shop around as well," Ms. Ney said.
"It is a great way to drive additional traffic to the site as consumers are encouraged to come back to the site each of the five days to re-enter the contest," she said.
Final take
Erin Shea, editorial assistant on Luxury Daily, New York