London department store Harrods is boosting global sales through its new mobile-optimized site that offers international transactions and shipping options.
The new site allows customers to shop Harrods many departments through their smartphones. Offering international consumers a way to shop on the go is likely to help boost Harrods sales and open the store up to new customers.
"Following the launch of our redesigned site last year, the release of our new, mobile Web site represents another key milestone on our roadmap for improving the end-to-end shopping experience for our local and international shopper base," said Neil Borer, director of Harrods.com, London.
"We serve a highly-mobile customer and represent the store's global window, so it was key to deliver best in class," he said. "Our two particular focuses were imagery and browsing experience.
"We wanted to provide our customer with plenty of options for viewing products in the most visually-rich way and enable them to edit down to their specific preferences fast."
Luxury in your hand
The new Harrods site can be accessed by smartphone users at http://mobile.harrods.com.
The homescreen offers the retailer's current promotions. Consumers can access other store departments by scrolling along the top or clicking on the list icon.
Clicking on a department brings consumers to menu to select another category to narrow their choices.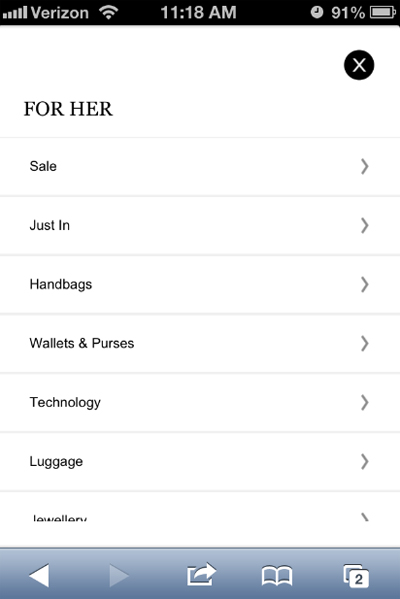 For Her menu
When viewing products, consumers can look at one at a time or two at a time. It can be rotated to offer additional viewing options as well.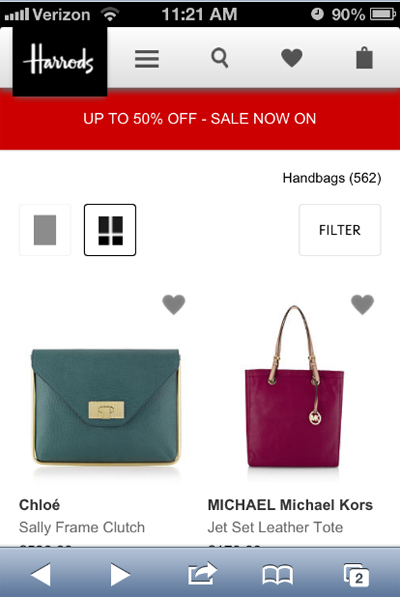 Handbags
The site also allows consumers to save an item by clicking on the heart icon. Saved items and the shopping cart can be accessed from the banner options throughout the entire site.
The product pages give consumers details before they purchase or like an item. From the page, consumers can see multiple images of the product, read a short overview and item details, view delivery and return options, view style recommendations and similar products.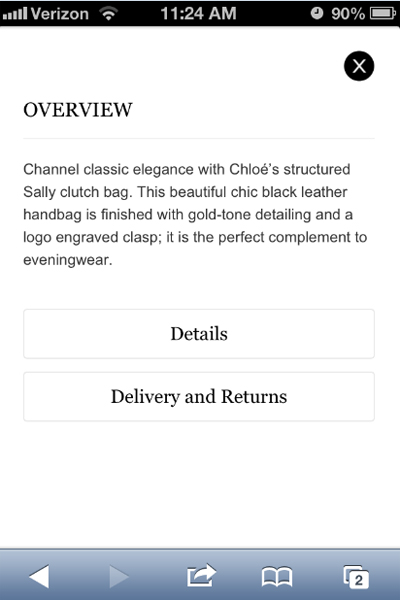 Item overview
The site also increases convenience by allowing registered customers to sign into their Harrods.com accounts for a faster checkout and to access their saved items via mobile.
Harrods' international shipping policies and ordering process should be just as convenient as the site to keep customers coming back.
"As long as Harrods' shipping logistics in terms of cost and timing are not out of the ordinary, [international consumers will shop mobile,]" said Jeff Gunderman, senior vice president and general manager of Eye, New York.
"The challenge with international shipping will be the ever increasing convenience of return policies by U.S.-based companies," he said. "Those will be hard to compete with.
"It's not just about mobile, it's about the overall convenience of the shopping experience that extends into to the transaction and return policies."
Mcommerce mavens
Many luxury retailers have revamped their mobile efforts to boost sales.
For instance, Italian fashion house Gucci quadrupled mobile revenue and experienced a 70 percent growth in mobile conversion since the beta launch of its optimized Web site for iOS and Android devices.
Gucci rolled out its permanent mobile-optimized site to let consumers browse and purchase products on their smartphones.
Since the beta test run in December, the fashion house saw mobile revenue increase to four times what it was during the same time last year in addition to a 70 percent increase in mobile conversion since December (see story).
Furthermore, French apparel and accessories brand Lanvin drove sales by offering its e-store on its mobile-optimized site.
The brand announced the shopping channel to consumers through an email and its Twitter account. This shopping option makes it easier for consumers who do not live close to a Lanvin retail store to make on-the-go purchases (see story).
Having a convenient mobile-optimized Web site is essential for retailers to compete in a digital-focused world.
"A mobile optimized retail site is table stakes these days," Mr. Gunderman said.
"Consumers have a mobile device with them 24/7 and don't want to wait to get to a computer to shop these days," he said.
Final take
Erin Shea, editorial assistant on Luxury Daily, New York