London-based department store Harrods is tapping into consumers' creativity and inspiration by holding a contest on Pinterest that allows users to design their own store window.
Consumers who "pin" inspirations for the window around the theme "Queen's Diamond Jubilee Street Party" have a chance to have a Harrods window inspired by their mood board. The winner will be brought to London for the special unveiling.
"The windows at Harrods are probably some of most famous window displays in the world and they're giving a chance to be a part of that history," said Ron Schott, senior strategist at Spring Creek Group, Seattle. "They are doing it in a way that takes advantage of one of the hottest new networks around, Pinterest.
"They're also using their other networks to drive awareness and act as entry point for the contest, which drives fan growth and brand awareness at the same time," he said. "You've got to think, for a person who grew up looking at the beautiful window displays at Harrods, having the chance to inspire one of their own has to be just incredible."
Window shopping
Harrods is drawing attention to the Pinterest contest via its active Facebook and Twitter outlets.
Harrods Pinterest contest announcement on Facebook
The retailer gives directions for the contest on its Facebook page.
Consumers who create a mood board will be the inspiration for the Harrods window, which will be unveiled next month.
The Pinterest board must be titled "Harrods Street Party Window." Consumers must tweet Harrods' twitter handle @HarrodsofLondon a link to the board with the hashtag #Harrods Windows.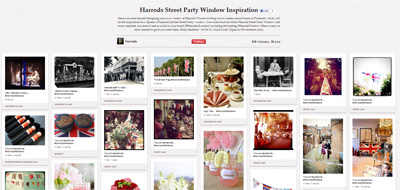 Harrods Pinspiration board
Harrods created a board to give consumers inspiration. The images are of past Harrods windows, Union Flags, afternoon tea food and beverages and royalty-inspired trinkets.
The winner, who must be resident in Britain, will be flown to London and put up in a hotel for the window reveal.
Submissions must be in by April 19.
"Pinterest does an excellent job of marrying personal creativity with brand image," Mr. Schott said. "The designs, products and personal touches on the site lend themselves perfectly to a contest like this.
"One thing I would say, though, is that Pinterest in Britain actually has flip-flopped demographics compared to the U.S., with males being the larger group," he said. "Females are quickly flocking to the site and are using it much in the same way as their U.S. counterparts, so I'm sure the submissions will be great."

Contest submission
Royalty loyalty
Harrods is likely trying to build loyalists through one of its most traditional: the in-store experience.
Since Harrods windows are iconic, this is likely an opportunity in which many consumers would like to participate.
Harrods has been aiming to build loyalty through social media for some time.
For example, Harrods rewarded its most loyal customers and celebrated social media milestones by giving away money to a consumer who follows the retailer's Twitter feed (see story).
When it approached the 100,000 Facebook "likes" milestone, Harrods rewarded one of its 50,000 Twitter followers with $1,630 to spend on Harrods.com.
The retailer is also positioning itself as a fashion authority by launching a monthly online magazine The Review found at http://www.harrods.com and a mobile application for the iPad (see story).
"Harrods itself is a brand that just gets better with age," Mr. Schott said.
"Tapping this new creative outlet will only further their already-deep brand loyalty among those who have long since been associated with the brand, but the digital aspect allows an entirely new crowd to participate and become closer to the idea of Harrods," she said.
Final Take
Rachel Lamb, associate reporter on Luxury Daily, New York