French leather goods and scarves maker Hermès is pushing its race track-inspired porcelain tableware line Rallye 24 by integrating it in an online game.
The game is named after the new tableware collection that incorporates classic racing colors such as yellow, green, red, blue and black, as well as a curved graphic that represents the oval shape of a track. In the new game on Hermès' Web site, consumers can navigate around Rallye 24 items on a virtual track with their vegetable game piece.
"The Rallye 24 brand was inspired by vintage sports cars and racing tracks, so the strategy for the game was to create a fun, quirky way for customers to become aware and engage with the collection by racing a car made from vegetables around a virtual race track," said Scott Delea, managing partner at Inflexion Interactive, Hoboken, NJ.
"I didn't really get the point of racing a car made of a cucumber or pear, but it was funny and it worked," he said. "Hermès does a great job incorporating multiple elements into its creative including visual, movement and sound.
"Like the brand, the game was fun and a bit retro, so it was very effective and on-brand."
Mr. Delea is not affiliated with Hermès, but agreed to comment as an industry expert.
Hermès did not respond before press deadline.
Game face
Consumers can play the Rallye 24 online game at http://hermes.com/rallye24. Or, they can navigate to the gaming platform via Hermès' main site and social media channels.
First, players must choose their "speedster" or playing piece – a pear, strawberry, pickle, pepper or eggplant on wheels – and their racing course.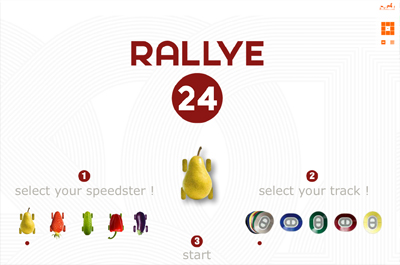 Game 
During the game, players control their speedster with the arrow keys on their computer's keyboard. They must navigate around pieces from the Rallye 24 collection and gather mushrooms that are spread throughout the course.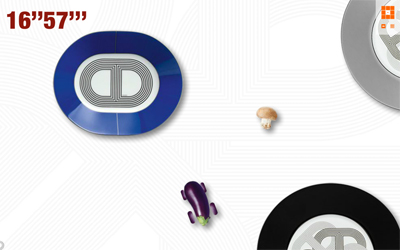 Game 
Players are timed as they go through the course and are presented with their score at the end. Each mushroom gives players extra time.
After consumers cross the finish line, their speedster lands on a plate or platter from the collection. Consumers can play again or challenge a friend.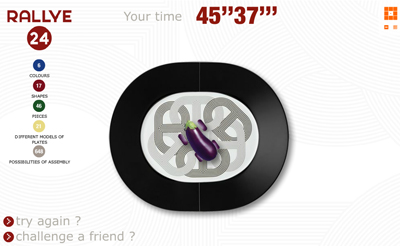 Game 
The Rallye 24 collection includes plates, platters, bowls, tumblers, mugs and a vase. The items range in price from $75 for a mocha spoon to $1,250 for a large lacquer platter.
"Hermès maintains a very whimsical approach to digital," said James Gardner, founder/CEO of Createthe Group, New York. "With around 194 directly operated stores powering a 10 percent growth in Q1 2013, the brand for its own reasons does not currently look to digital as a vital distribution channel.
"With this in mind, gaming in this scenario is pure brand entertainment, and by no means a customer acquisition initiative," he said.
"However, Hermès maintains a very conceptual approach to digital as a communication tool following on from the immensely successful fingerboard packaging video."
Young and old
Hermès has been incorporating elements into its digital marketing that could make the brand more approachable to younger consumers.
For example, the brand is boosting its spring "A Sporting Life" campaign with an interactive digital platform that plays four different short films featuring its products such as Rallye 24 tableware items (see story).
In addition, Hermès used the spontaneity of young love to market its silk scarves to a new generation of consumers in a short film produced by 18-year-old photographer Olivia Bee (see story).
In this day and age, it is crucial for luxury brands to remain true to their DNA while being relevant to new audiences, per Rebecca Robins, London-based director for Europe, the Middle East, Africa and Latin America at Interbrand and co-author of "Meta-luxury: Brands and the Culture of Excellence."
"Consonant with the brand's current annual theme, 'A Sporting Life,' this is Hermès excelling at what it does best – storytelling which celebrates the product as hero," Mr. Robins said.
"Hermès has taken this opportunity to feature its new Rallye 24 homeware collection, also showcased as part of its 'Long Live Sport' series of videos," she said. "It's a playful balance of the expected and the unexpected.
"The brand's association with automobiles is, perhaps, something for which Hermès is less well-known, although they created trunks for the likes of Bugatti, and were even innovators with the introduction of le sac pour l'auto by Emile Maurice, grandson of Thierry Hermès."
Final Take
Tricia Carr, associate reporter on Luxury Daily, New York