French leather goods brand Hermès is raising awareness of its Petit h collection with an email blast featuring a scientist in a lab coat.
Petit h takes leftover fabric and pieces with slight imperfections and turns them into unique pieces that sit outside of a fashion season. While using remnants might not seem like a luxurious concept, Hermès has used digital content to prove otherwise.
"Hermès had to present the Petit H collection in an attractive way and by focusing on the process and not necessarily the remnant materials being used, they are able to attract users and drive demand," said Brittany Mills, director of digital marketing services at Mobiquity, New York. 
"Email is a great channel to message and sell through to current consumers," she said. "It is the top driver of 'intent' during the purchasing cycle for the retail segment.
"I believe that this collection gives them a great opportunity to message to a new, aspirational customer who is able now to own a piece of the brand through these new products."
Ms. Mills is not affiliated with Hermès but agreed to comment as an industry expert.
Hermès did not respond by press deadline.
Science meets art
On June 13, Hermès sent an email to its newsletter subscribers about Petit h. To get consumers' attention in their inboxes, the brand used the subject line "Eureka!"
Inside the email is a moving sketch of a scientist pouring a chemical from a test tube into a conical flask. The combination makes the substance grow and pipe out of the flask into a tube, which mixes with a small leather good to make it a Petit h product.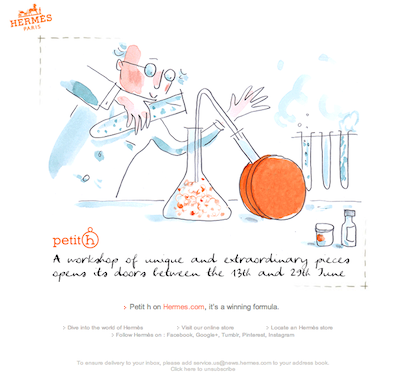 Email from Hermès
Text tells consumers that the "unique" and "extraordinary" collection will be on display from June 13-29. At the bottom of the email is a link to Hermès' Web site, with the tagline "It's a winning formula."
On the click-through, consumers are taken to the homepage for Hermès' United States boutique. One of the featured tiles on the page is for Petit h.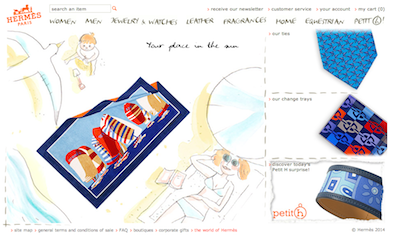 Landing page
This link to "discover Petit h products" takes consumers to the product page for the brand's calfskin and silk bracelets. For these Petit h accessories, consumers pick their color of leather, from black, red or blue, and then Hermès will surprise them with a print that relates.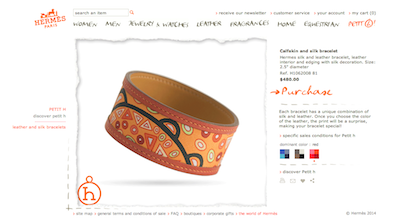 Petit h ecommerce page
Included on the product page are two different links to "discover Petit h," one positioned right below the product description. This link opens a pop-up with text detailing the project.
Hermès explains that Petit h was formed in 2010 as a way to combine its materials with a more creative process. Artists, manufacturers and craftsmen work together in a perpetual dialogue, allowing them to think outside the box and try anything.
Petit h brings in designers that then work with the label's skilled artisans to create unique items.
The collection sits outside of the fashion seasons, and is available year-round at Hermès' Paris store on rue de Sèvres. In addition, the collection is sold temporarily at Hermès boutiques internationally, including the South Coast Plaza store in Costa Mesa, CA, from June 13-29.
Facebook post from Hermès
During the same time frame, from June 13-30, Hermès will be selling an edit from Petit h online at h.com.
At the bottom of the text is a button to learn more, which takes consumers to a page with video content about Petit h.
In the first episode of the five-part series, Petit h artistic director Pascale Mussard takes consumers on a tour of all of the various things Hermès holds onto, like pieces from a discontinued line or metal with tiny scratches, all her "little treasures." She takes the viewer with her to the factory where they cut the leather, and explains that she can use the scraps to make something.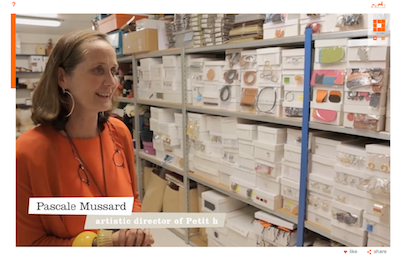 Video still from Hermès
Other videos in the series show silver spoons being turned into pendants and lamps and a section of a store being dedicated to Petit h.
Inside Petit h - Episode N°1
Talent showcase
Hermès takes its craftsmanship seriously, and has opened the door to its workshop to consumers through video before.
The leather goods maker let its products speak for themselves with a behind-the-scenes video that shows the maison's artisans at work.
As the video title "No Comment" suggests, the work behind Hermès' range of products needs no verbal explanation as the results are able to stand on their own without much context. Behind-the-scenes videos humanize a brand by showing the master craftsmen and designers responsible for the look and feel of products (see story).
The cartoon scientist and quirky projects created for Petit h fit with the larger whimsical nature of the Hermès brand.
French leather goods maker Hermès brought its latest print campaign to life through a social video that explores the brand's range of products.
Hermès' Metamorphosis print effort features models in its ready-to-wear and accessory pieces set within a thick jungle of palm fronds and large leaves, while the digital campaign focuses on an expansion of items such as jewelry and home wares. When transferring a print campaign to the digital space it is important to maintain cohesion but also to refresh the imagery to keep consumer attention (see story).
Hermès' focus on craftsmanship makes sense for this particular project.
"I think the collection has been introduced to current consumers in a great way through the creative and the videos telling the story of how this idea and collection came to be," Ms. Mills said.
"Shoppers love to go behind-the-scenes to see how something is made or designed," she said. "The focus, in this case, should be the process and the content supports that to make sure Hermès' luxury image is still maintained."
Final Take
Sarah Jones, editorial assistant on Luxury Daily, New York