Luxury brands offering social media all-access passes and behind-the-scenes footage for Mercedes-Benz Fashion Week are not only becoming the norm, but mandatory for those looking to engage with consumers on a deeper level.
When luxury brands started letting consumers behind the digital velvet ropes, some experts questioned whether or not this process dilutes a brand's status. However, this type of interaction is not only encouraged but is becoming necessary to building brand loyalists and acquiring new customers.
"Brands need to truly establish a connection with their consumers to continue their brand loyalty, especially because the 'hottest new thing' launches every minute," said Dalia Strum, president of Dalia Inc., New York. "So there needs to be a strong relationship with their clientele in order to continue the momentum with their brand.
"Sneak-peak pictures as well as interviews adds value to a luxury brand's fashion week experience because this truly displays the vulnerability of the brand, their true values and, more importantly, what differentiates them from their competition," she said.
Attendance: mandatory
The most viable way to reach consumers during fashion week is via social media.
"Social media adds a layer of interactivity as well as instant moments," said Kimmie Smith, editor in chief of Kitten Lounge, New York.
"Tweeting images as they come off the runway or taking video has a quick way to translate the energy that comes off the show and having many opinions shared about the same item that has only appeared within seconds is a great way to start conversation."
Furthermore, this is the route that most luxury brands are choosing to take and are using Instagram, Pinterest, Twitter, Tumblr and Facebook to their advantage.
For example, lifestyle brand Michael Kors is increasing the amount of time that fans spend with its fall/winter fashion show through an interactive microsite and Pinterest component for its All Access Kors campaign.
Michael Kors' Fashion Week Pinterest
The new microsite at http://live.michaelkors.com features the runway show that took place in New York last week and allows fans to interact with the camera angles and save outfits from the models. Michael Kors has also created a special board on Pinterest highlighting his favorite moments and looks from New York Fashion Week (see story).
In addition, brands including Marc Jacobs, Burberry and Alexander McQueen are hyping up their runway shows by including teaser videos that feature interviews with models and executives as well as images of performers dressing, creative directors pinning garments last-minute and images of the runway before the start of the show.
Burberry's Fashion Week trailer
 Retailers are also getting into the swing of things.
For example, Bergdorf Goodman and Nordstrom have been tweeting images from the shows that employees are attending with their own comments or snippets about collections.
Bergdorf is taking it a step further with its "What I'm Wearing This Week" Facebook feature starring creative director Linda Fargo.
The series follows Ms. Fargo as she goes about her Fashion Week activities and describes what she is wearing each day.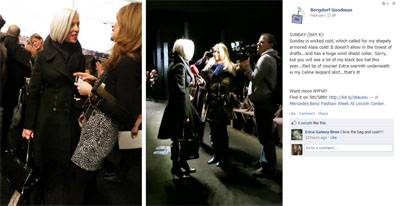 Linda Fargo's "Today I'm Wearing" feature for Fashion Week
"Social media establishes their brand advocates, as well as the loyalty behind the consumer relationships with the brand," Ms. Strum said. "The stronger the conversion around the brand as well as their product line, and any additional conversation that they create, the stronger the bond they have built and the brand loyalty will be much longer lasting."
Social butterflies
Fashion Week used to be one of the most exclusive events in the world, but the world of fashion – and the event itself – has evolved so dramatically that more consumers can now attend.
Luxury brands are starting to lift the velvet curtains to their shows and letting some of their most supportive fans and loyal consumers come inside their world.
Rather than looking at it as popping the private Fashion Week bubble, engaging more consumers at the event could prove to be one of the most beneficial acts that brands could do for themselves.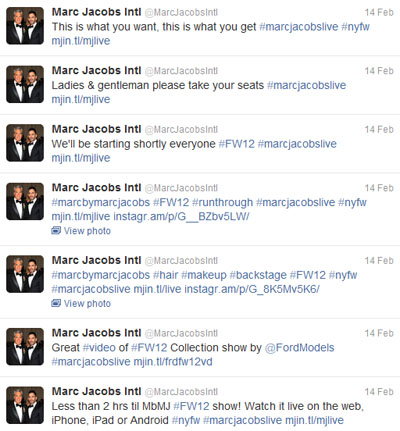 Marc Jacobs builds hype for its show via Twitter
"All-access passes to fashion week has the opposite effect of dilution to the Fashion Week experience, as long as they are not overly distributed," Ms. Strum said. "It creates the opportunity for brands to establish a stronger relationship with current as well as potential consumers while allowing them to educate their network on what that brand is currently working on."
The evolution of Fashion Week attendees does not mean that the event is any less special. But it does mean that brands should think about what having these consumers will mean for themselves.
Consumers that go to designers' shows during this time are most likely the same people that would like to, and probably will, buy the clothes that they see during Fashion Week.
On the other hand, consumers who participate in contests or live-stream fashion shows are likely going to be able to afford high-end products in the future. Therefore, brands are already beginning to establish relationships with future customers.
"To ensure that luxury is still obtained by providing access, brands must explain why their luxury is still there," Kitten Lounge's Ms. Smith said.
"Speaking to issues that involve fabrication [such as] were exotic materials sourced, is there a certain method of construction or special treatments used to create the desired look from the design theme? Did they take an inspiration trip to Greece or Brazil?" she said.
"Showing how the items are actually created, whether they are handmade or made in limited quality by artisans, shows the brand from its building blocks while maintaining the integrity of luxury."