Swiss watchmaker IWC Schaffhausen is using the success of the Universal Pictures film "The Bourne Legacy" and its correlation to the brand lifestyle as grounds to display a timepiece on one of the lead characters.
The product shown in the film is the Pilot Watch Double Chronograph Edition Top Gun. Through this partnership, IWC is reinforcing its reputation as a trailblazing brand and simultaneously celebrating its passion for filmmaking.
IWC declined comment for this article.
Bourne this way
Aaron Cross, played by actor Jeremy Renner, will be donning the IWC Pilot Watch.
Mr. Renner in the IWC timepiece
IWC has been featured in other movies such as "Wall Street" and "Ocean's 13" and in television shows including "Grey's Anatomy," "Private Practice" and "Gossip Girl."
What IWC calls its "passion for filmmaking" translates to awards show sponsorships and special events.
For example, during this year's Cannes International Film Festival, IWC hosted an evening event called the Filmmakers Dinner, presented in partnership with Finch's Quarterly Review and Mercedes-AMG.
The IWC Pilot Watch has a 46-millimeter diameter and is made of black high-tech ceramic. Its crown, push buttons and back cover are made of matte gray titanium.
The chronograph is powered by the 79230-caliber chronograph movement.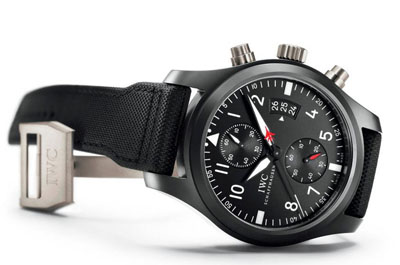 IWC Pilot Watch
Ready for a close-up
IWC hopes that Mr. Renner's portrayal of a thrill-seeking lifestyle of an elite agent will correlate to the brand image.
Other luxury brands have taken this angle, especially in action-packed movies.
For example, one of Omega's most famous brand ambassadors is James Bond and his real-life counterpart actor Daniel Craig.
In addition, Tag Heuer used TV movie "Lincoln Lawyer" to allow engagement and build awareness with an aspirational audience (see story).
Careful product placement in movies, television and music videos can influence brand perception, build awareness and solidify an already-established reputation.
In addition, having a celebrity wearing, mentioning or driving a luxury item in a blockbuster film or popular music video can put a luxury brand on the map. The association with an adored celebrity can also raise a brand's prestige status.
Marketers definitely need to be careful about with who and where they place their products, because inaccurate placement could be misconstrued as part of the brand image or even overlooked by the audience.
Final Take
Rachel Lamb, associate reporter on Luxury Daily, New York