Estée Lauder's Crème de la Mer is encouraging consumers to purchase beauty products through mobile banner advertisements on New York magazine's The Cut.
La Mer's ads have a simple call to action that encourages consumers to click to shop on its mobile-optimized site. The brand is also likely to gain more purchases since its mobile site simplifies the check-out system by using PayPal.
"Consumers on mobile have relatively high incomes and are purchasing luxury goods, but beauty remains a niche," said Doug Stovall, executive vice president of sales and services at Hipcricket, Seattle.
"Significant impediments exist for mobile retail," he said. "The main road block to mobile sales is the checkout experience, which is the single most important feature when it comes to driving conversions on mobile devices.
"[Creating] an easy checkout experience, such as using PayPal, will enable users to more easily convert even with a smaller screen, but how much that moves the needle remains to be seen."
Mr. Stovall is not affiliated with La Mer, but agreed to comment as an industry expert.
La Mer was unable to comment before press deadline.
Shopping with ease
Both of the La Mer ads were placed as banner advertisements and both contained the words "Shop now."
One of the ads tells consumers about the brand's complimentary standard shipping offer.
The ad reads, "Do you believe in miracles? Complimentary standard shipping."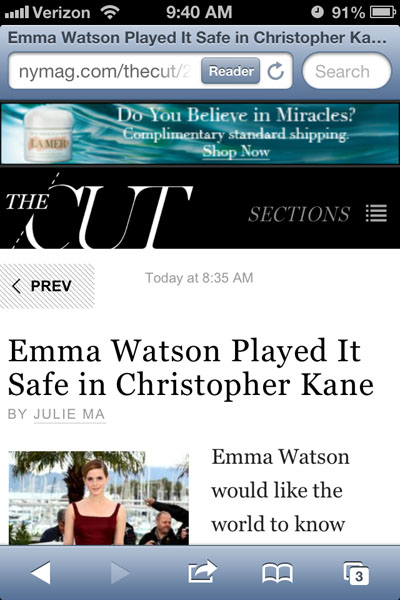 La Mer ad
A click-through on this ad leads consumers to a product page for moisturizing soft cream on La Mer's mobile-optimized site. The product is priced at $275 for 2 ounces.
The other ad has a beige background color and says "Born from a love of sun and sea, the new Soleil de la Mer Collection."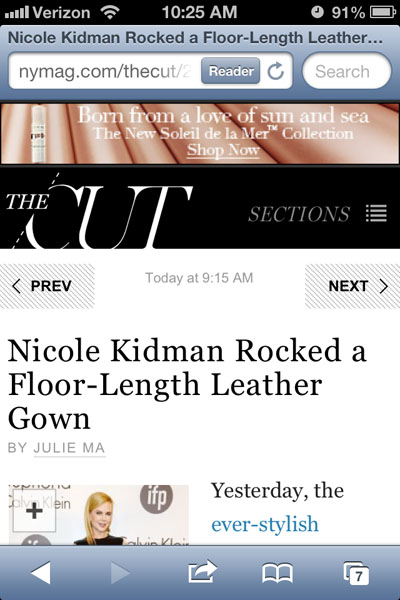 La Mer ad
A click-through takes consumers to a landing page that shows off the brand's sun-protection and tanning products.
Sun products
Clicking on a product allows consumers to read product details, read reviews, share it on social media or add it to their shopping back.
When a consumer adds a product to their bag, a push-notification is sent.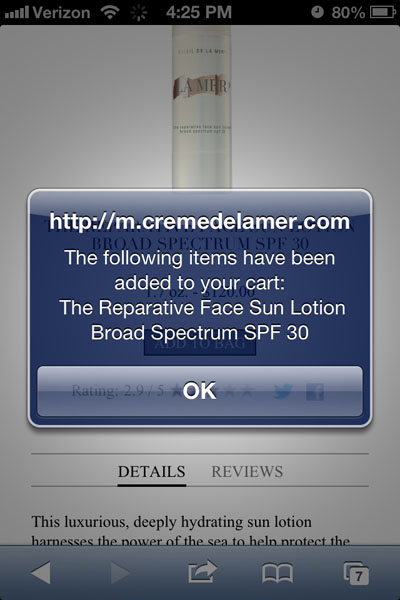 Push notification
La Mer has simplified the check-out process on its mobile site by letting consumers sign-in and access their accounts, apply an offer code or use PayPal.
On-the-go beauty
Other luxury marketers have pushed mobile commerce for beauty products.
For instance, French fashion house Givenchy seamlessly connected consumers to its mobile-optimized site and Le Rouge campaign through a QR code on lipstick packaging.
The brand placed a QR code on the box of its Le Rouge lipstick that leads consumers to its mobile site where they were able to discover more about the product and the campaign (see story).
Also, Estée Lauder lured consumers to its mobile-optimized commerce site through a banner ad that featured the brand's Pleasures fragrance.
The banner ad appeared on the People.com mobile site at the bottom of the screen. A click-through led to the Estée Lauder mobile site where consumers could purchase the fragrance and other products, "like" products on Facebook or locate a store (see story).
If beauty marketers want to stay relevant in mobile, they should look to mix up their ads to keep consumers interested.
"Ad creative can have a major impact on the effectiveness of a mobile ad campaign, so it's important that they are constantly tested and refreshed," Mr. Stovall said.
"Mobile campaigns should have three to four creative ads that are rotated to reach different consumers," he said.
"The La Mer ads keep the creative simple and have more than one banner ad to target different consumers."
Final take
Erin Shea, editorial assistant on Luxury Daily, New York