French beauty brand Lancôme tied its beauty products to the rich and famous with a pair of banner advertisements and pop-ups on the mobile Web site for Condé Nast's Vanity Fair.
Lancôme's ads maintain some amount of mystery to generate click-throughs, with one posing a question. When using a pop-up ad, it is smart for a brand to make sure it is interesting for the consumer, since it takes them away from the content they were trying to view.
"A pop-up ad is intended to be attention grabbing but most consumers find them annoying because they aren't relevant and don't offer any valuable content," said Philippe Poutonnet, vice president of marketing at HipCricket, Bellevue, WA. "If done right, consumers don't mind receiving a pop-up.
"By combining the pop-ups with banner ads, which tend to be more passive and reside in the background, Lancôme is able to appeal to a wider audience segment," he said.
"Part of the ads' appeal lies in the social sharing dynamic. One asks users to confess their best kept secret, while the other contains a hashtag.
"For consumers who are social media savvy, these ads can serve as a call to engage on a personal level with the brand and connect with friends over beauty tips."
Mr. Poutonnet is not affiliated with Lancôme but agreed to comment as an industry expert.
Lancôme, owned by L'Oreal, did not respond by press deadline.
Starting a conversation
Lancôme's ads are for its Dual Finish and its Visionnaire one minute blur, but only the Visionnaire is mentioned by name in an ad. Both ads ran on the Hollywood section of the magazine's mobile Web site, with both a banner and a corresponding pop-up for each product.
The beauty label's Dual Finish ad is a tan color to mimic the skin tones the powder foundation combination comes in. The banner ad asks the question "What's the best-kept secret of millions of women?" To the right is the brand name.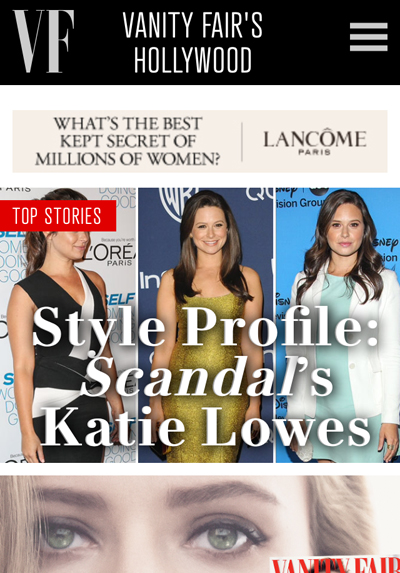 Vanity Fair mobile site
Lancôme's pop-up for the same product asks "What's your best-kept secret?" This ad includes a call to action to "confess now."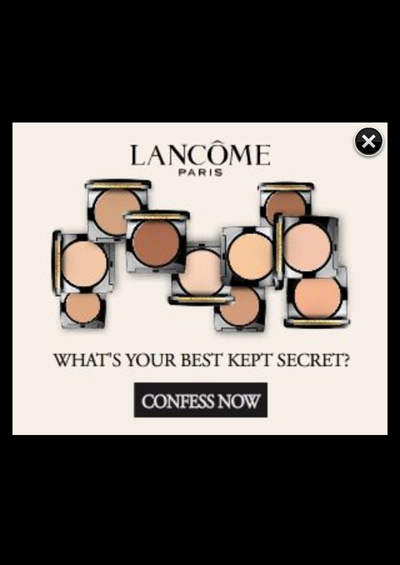 Lancôme mobile pop-up ad
The ad for Visionaire is more straightforward, letting consumers know the product is new. Lancôme made this ad blue to reflect the tube the finishing cream comes in.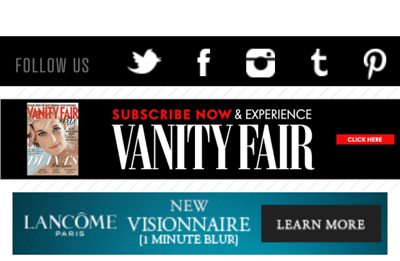 Lancôme banner ad on Vanity Fair
Lancôme's pop-up shows the bottle, telling consumers that it "blurs skin imperfections in a flash." This ad also includes the hashtag #photoperfectskin, along with a call to action to "learn more."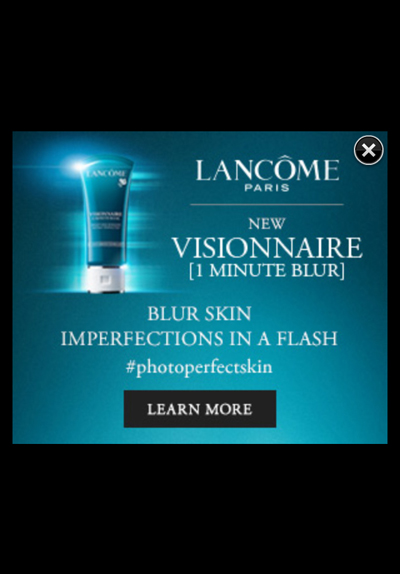 Lancôme pop-up ad on Vanity Fair
The likely intended landing pages were the individual product pages on the brand's Web site, which include product testimonials from real women. Lancôme's mobile Web site does not include the pages in this format with content, so the click-throughs instead take consumers to the brand's home page.
Without the product name included for the Dual Finish powder, consumer may not spend the time to find the answer to the question.
For Lancôme consumers who follow the brand on social media, the products might be familiar, since the label has promoted them recently on its accounts. Because of this, Lancôme's ads will likely jog the memories of its loyal consumers, but will probably not reach a new audience unfamiliar with the brand.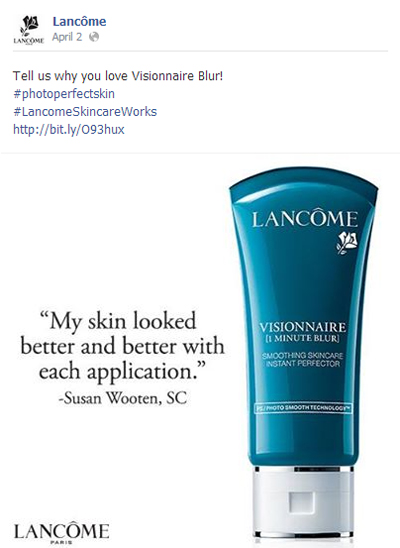 Facebook post from Lancôme 
Mobile-optimized
When Lancôme was rolling out its line created with Lanvin creative director Alber Elbaz, it used a series of mobile ads to reach fashion-savvy consumers.
Lancôme pushed its new product line through a mobile banner ad on New York magazine's The Cut in an attempt to boost mcommerce.
The ads flaunted the new Lancôme Show products created by designer Alber Elbaz and a click through lead consumers to the brand's mobile site to purchase the products. Lancôme was aiming to grasp the attention of new customers through the colorful ads (see story).
It is not always necessary for a mobile ad to have a call to action.
There are two schools of thought on this, but the emerging debate is whether the luxury brand's name is draw enough to encourage click-through on mobile ads.
With the limited space on a mobile ad, luxury marketers should only keep crucial information to not overwhelm or confuse consumers. Although a call to action may not be absolutely necessary, marketers should make their mobile ads appealing enough so that consumers want to find out more (see story).
Lancôme's ads are presented in a way that incites clicks, but then they lose momentum when the consumer is dropped on a landing page without a clear idea of where to go.
"Hipcricket considers it a best practice to link directly to the product featured in a mobile advertisement," Mr. Poutonnet said. "This is what the user is expecting when he/she engages with your brand.
"Lancôme lost an opportunity with these ads to drive traffic to specific product sites or even a designated e-commerce site dedicated to these products.
"Mobile consumers are busy, so giving them a direct path from ad to product is critical to increasing conversions. While these ads do a good job at increasing consumer awareness of Lancôme's products, the brand could have made it easier for consumers to engage with the exact products on display."
Final Take
Sarah Jones, editorial assistant on Luxury Daily, New York