Diamond jeweler Lazare Kaplan Intl. is looking to drive millennial brides to its retailers through global trunk shows and a multichannel contest that coincides with its "You Just Know" rebranding campaign.
Consumers can enter the "You Just Know" contest by writing an essay that describes when they knew they had met "the one" for the chance to win a diamond pendant. Lazare seems to be targeting brand loyalists who will take the time to write an essay to familiarize them with nearby retail locations.
"This contest was geared to all consumers, but specifically millennial bridal consumers through our retail partners," said Christine Tobias, social media marketing and sales coordinator at Lazare, New York. "We targeted consumers who are preparing to get engaged.
"The contest and event will reinforce our message and make the Lazare brand more familiar to this group of consumers."
Diamond in the rough
In their essays, entrants must incorporate the characteristics of an ideal-cut Lazare Diamond while describing the moment that they knew their wife, husband, fiancé or significant other was "the one."

One winner will be chosen per participating Lazare retail partner. Each winner will be announced during the Lazare trunk show Oct.26-27.
Each participating retailer will select a winner from entrants in the surrounding area. Criteria for the essays include accuracy, originality, marketability, creativity and emotional draw.
The winners will be invited to their corresponding Lazare retailer partner to attend the trunk show and receive the Lazare diamond pendant prize. The pendant will be on display for those visiting the trunk show as well.
The contest entry period runs Oct. 1-22. Entrants can submit an essay through a participating retailer, Lazare's contest Web site or the brand's 4C's mobile application.
Lazare is sharing the contest via social media and likely through its retailers.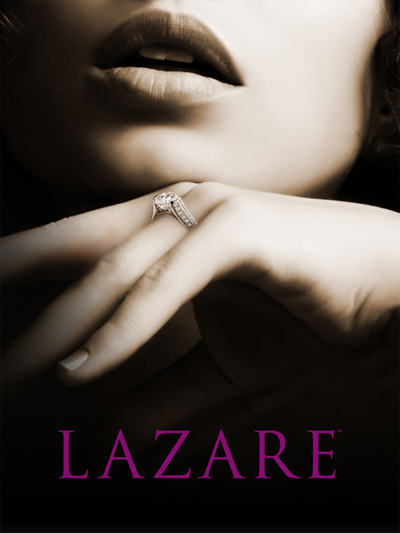 Lazare "You Just Know" campaign
The "You Just Know" rebranding campaign launched earlier this year. Lazare looked to highlight its legacy through mobile, digital, in-store and print efforts for its new bridal collection.
The collection emphasizes timeless, modern bridal designs, according to the brand. In addition to advertising on a bevy of marketing channels, Lazare is also working with various retail partners nationwide to form in-store marketing plans such as the forthcoming contest (see story).
Diamond dash
There are quite a few ways that jewelry marketers are encouraging foot traffic.

For instance, London department store Harrods is upping its status as a destination in Britain by hosting the first Biennale des Antiquaires antiques and art fair in the country.
The retailer is inviting the public to visit the exhibition Oct. 1-14 in its fine jewelry room where brand partners will be showing their collections and vintage pieces. The event will help Harrods raise awareness for its newly installed Cartier, Chanel, De Beers and Boodles concept boutiques, its new Piaget boutique and the Harry Winston Salon (see story).
In addition, jeweler Tiffany & Co. is directing affluent New Yorkers to its new SoHo property through geo-targeted banner ads on the Weather Channel mobile app.
Consumers checking out the map section on the app can see the banner ad on the top of the page. The app allows consumers to call the store and gives directions to the property (see story).
Also, precision-cut crystal maker Swarovski gave its customers in the top international markets access to customized city guides and the chance to unlock exclusive digital experiences in a campaign to push its fall/winter 2012 collection.
The month-long Kingdom of Jewels campaign Aug. 27-Sept. 30 offered public city guides as well as exclusive experiences that a limited number of consumers could access with a unique code found in stores (see story).
Lazare is trying a contest to push foot traffic and immerse consumers into the brand experience, per Ms. Tobias.
"The strategy behind the contest and event was designed to convey our brand message in a way that strongly incorporates our select Lazare retailers around the world and in turn, reinforce our message to consumers in a consistent way," Ms. Tobias said.
Final Take
Tricia Carr, editorial assistant on Luxury Daily, New York