The diverse set of advertisers in Robb Report's April tablet edition suggests that luxury brands across all categories are looking to up mobile engagement with their target audience.
Barneys New York, Breguet, Delta Private Jets, Flight Options, Jet Aviation, Kalamazoo Outdoor Gourmet, Lamborghini, Land Rover and Sub-Zero chose to place ads in both the print and landscape tablet editions of Robb Report. The behavior of the audience consuming each medium hints that advertisers can get more attention if they push campaigns in both editions.
"The engagement with our digital editions dramatically exceeds a simple read of any issue," said John C. Anderson, Los Angeles-based vice president of digital at CurtCo Media, publisher of Robb Report. "On average, Robb Report has received approximately 420,000 page views for each issue – with an average size of 240 pages – with more than 100,000 engagements using hotspots, viewing slideshows, watching videos and linking to the Internet.
"This 23 percent engagement rate actually is a significant understatement, as the portrait view of the issue in the digital edition does not have any opportunity for interaction and less than 20 percent of the pages in the landscape view have interaction," he said.
"Therefore, there is actually more than 100 percent engagement with the content."
Robb Report has a monthly tablet circulation of 15,000, including readers who have a digital subscription or have validated their print subscription to receive the free tablet edition.
Enhanced reading
Robb Report places digital enhancements on its editorial content in the landscape view of its tablet magazine and most advertisers choose to follow suit.
The first digital enhancement in the landscape view is on the letter from editor in chief Brett Anderson in which he discusses Richard III and the House of Plantagenet's fight for the British throne. The second page of the letter includes a slideshow featuring the family castle and portraits.
Later on, the magazine's two main feature stories each contain additional content.
The 2013 Ultimate Home cover story showcases Robb Report's home of the year, an Italian-inspired estate in Southern California.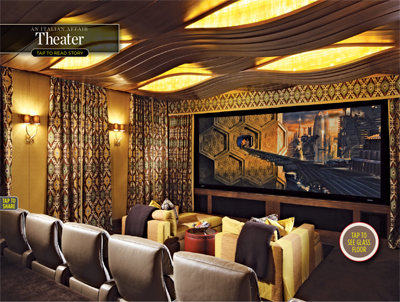 Feature story 
The home is displayed in print in a 20-page spread, while the tablet edition offers hotspots that reveal extra images of additional rooms and views of the home's interior.
Additional image 
Next, the story on the McLaren 12C Spider contains additional images, a video and a slideshow.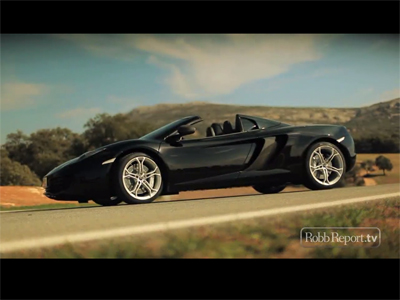 Video 
Meanwhile, advertisers such as Breguet, Lamborghini and Louis XIII de Rémy Martin added interactive elements to their ads in the April landscape edition as they have done in previous issues (see story).
In addition, the "Flying Privately" advertorial section from the print edition is featured with browsing capabilities tailored to tablet readers.
Delta Private Jets, Flight Options and Jet Aviation are each featured on one page with a summary of their programs, media such as slideshows and video and an executive Q&A.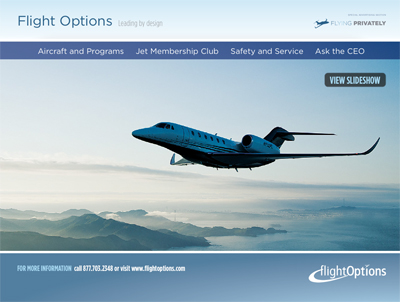 Advertorial page 
Brands to watch
Ralph Lauren, Chanel, Hermès, Ermenegildo Zegna, Chopard and David Yurman are pushing timepieces alongside watchmakers such as Richard Mille, Ulysse Nardin, Girard-Perregaux and Bell & Ross in Robb Report's April print issue.
Starting off the issue is Ralph Lauren, Chanel, Tiffany & Co., Barneys New York, Richard Mille, Inspirato with American Express, Ulysse Nardin and Chopard in front of book.
Adjacent to the first page of the table of contents is an ad for the Hermès Dressage watch followed by one-page ads for Zegna's High Performance Chronograph, Maserati's Quattroporte, Montblanc's Signature for Good pen collection benefiting UNICEF and Todd Reed's Raw Elegance collection.
Next are placements from The Ritz-Carlton New York, Central Park; George Walton's Gold and Diamond Co.; Girard-Perregaux; NetJets; Kalamazoo Outdoor Gourmet; Armaggan; Land Rover; Cora International; Strut LaunchPort and other high-end brands.
Ads from DeWitt, Kiton, Jacob & Co., Westime and Leviev lead up to the Ultimate Home feature while David Yurman took up the back cover of the magazine with an ad for its Classic watch (see story).
In the tablet edition, automotive, appliance and private aviation brands are most prominent.
"In the landscape view of the Robb Report tablet edition, three categories are very well represented – autos, appliances and private aviation," Mr. Anderson said.
"These luxury advertisers have chosen to enhance their ads in part due to the features in the issue itself – The Ultimate Home, a private aviation supplement and the auto coverage in both the feature story and departments of the magazine," he said.
Final Take
Tricia Carr, associate reporter on Luxury Daily, New York