NEW YORK -- Upscale electronics manufacturer McIntosh Laboratories celebrated the 50th anniversary of its MC275 tube power amplifier with a limited-edition version to be produced in restricted amounts with an event at Savant Experience Center in New York Oct 6.
McIntosh paired with home entertainment and security designer Savant to showcase a variety of ways in which affluent consumers can work, play and keep their families safe using products from the two companies. McIntosh aims to emphasize the difference of how music sounds through its systems.
"The idea of limited-edition remakes of old classics is an important part of the brand's history and something that we are very proud of," said Linda Passaro, vice president of global sales and marketing for McIntosh Laboratories, New York. "It has been an important part of our history ,and certain nuances of listening to music through amplification is a very cool thing to bring to new affluent audiences.
"McIntosh has a real goal of making sure that we are appreciated by a very narrow hobbyist community," she said. "We have a cult following of consumers who appreciate luxury wines, watches, homes, vacations and jewelry."
Epic center
The McIntosh event displayed products from the brand in collaboration with Savant systems and was set up in a way that let consumers imagine the products in their own homes.
For example, there were displays in a bedroom, home entertainment theater and living room.
Savant's systems are run by Apple products such as iPads and iPod touches that allow consumers to control security, volume, lighting, sound and power via a suite of options.
The iconic MC275 tube amplifier was first made in 1961 and a model on display was actually made 50 years ago, according to McIntosh.
The MC275 combines a polished stainless steel chassis and vacuum tube circuit layout meant to give new dimension to sound quality.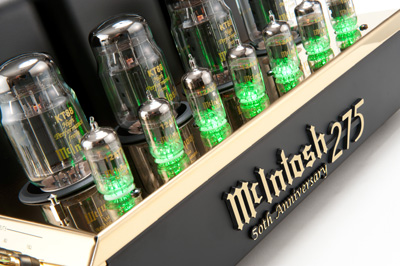 The MC275
The device runs for approximately $6,500 and will be available in December.
Key enhancements for the limited-edition version of the MC275 include multi-colored LED displays, high-speed sentry monitor circuit and power control input and output that can be controlled by a cable connection to a McIntosh preamp or processor.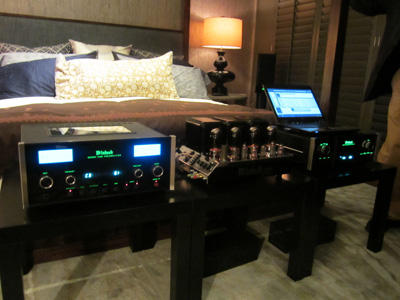 Bedroom display
In the home theater room, McIntosh products featured were the MX121 A/V Processor, the MVP891 Universal Player and MC8207 Power Amplifier through XR200 and XCS200 speakers.
The MX121 A/V Processor runs for around $6,000 while the MVP891 Universal Player runs for approximately $5,500, according to McIntosh.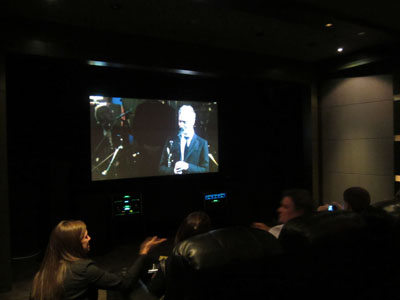 The home theater  display
The final stage was the living room. McIntosh products in this area were the C48 Preamplifier, MC302 Stero Power Amplifier, MCD500 SADC/CD Player, MEN220 Room Correction, MPC1500 Power Conditioner and XR100 Floor Standing Speakers.
The XR100 floor standing speakers run for $10,000 per pair. Other items on display such as the MT10 turntable, MCLK12 wall clock and MXA60 integrated audio system run for $9,500, $1,500 and $7,500 respectively.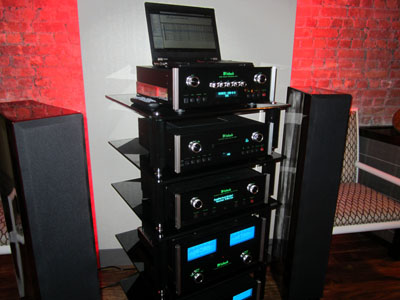 McIntosh living room display
Emotional experience
McIntosh claims that its systems take the experience of listening to music to the next level.
The brand has collaborated menswear designer John Varvatos for music-centric events such as through the celebration of the upcoming album from the rock band Jane's Addiction Sept. 19 at SoHo House in Los Angeles' West Hollywood district (see story).
Furthermore, John Varvatos sells McIntosh products such as the MXA60 in its SoHo and Bowery district stores in New York and its San Francisco and West Hollywood boutiques in California.
Rather than being about the price point, luxury products are about emotion and experience.
Affluent consumers respond to well-made and high-tech sound systems the same way they do to carefully crafted handbags or well-engineered cars.
"Audio isn't always something that comes top-of-mind when one thinks of luxury," Ms. Passaro said. "But we're working to debut ourselves to a larger audience of luxury consumers.
"We really believe in the luxury experience and the way in which you convey the message of the brand has to be communicated in a feeling," she said.
Final Take
Linda Passaro, global vice president of sales and marketing for McIntosh, New York
Rachel Lamb, associate reporter on Luxury Daily, New York
Here are some images from the event: