Receive the latest articles for free. Click here to get the Luxury Daily newsletters.
Montblanc leverages collections, innovations via iPad app
By
---
January 24, 2013


Watchmaker Montblanc is pushing its 2013 collections through a new iPad application that lets users browse layers of content on its history, innovations and watch models and offers a mobile try-on tool that is unique to the platform.
The free app was released to correspond with the watchmaker's presentation of its 2013 collection at the Salon International de la Haute Horlogerie in Geneva and the introduction of the new "Nicolas Rieussec Rising Hours" chronograph. The Timepieces app is available in English for the iPad 2, iPad 3 and iPad mini in the App Store.
"We wanted to showcase Montblanc's unique timepieces in an exceptional way," said Jason Warnes, general manager at AKQA, Berlin.
"The app provides elegant access to a breadth and depth of material and a unique True View feature," he said. "It genuinely sets the standard for a refined iPad experience."
AKQA created the Timepieces app.
All in the wrist
Users can navigate the Timepieces app through the three-column parallax scrolling homepage or the pop-out menu on the right side of the app.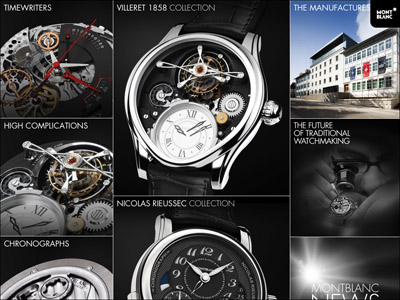 App homepage 
The three main sections of the app are Calibres, Collections and Insights. Each of these sections contains numerous subsections so that consumers can deeply explore the area.
Throughout the app are features to display the history and current collections such as images, readings, three-dimensional animations, videos, charts and Montblanc's True View tool.
The Calibres section is split into three parts – Timewriters, High Complications and Chronographs – that showcase the facets of each watch face.
The Collections section explores the watches available in Montblanc's six lines: Villeret 1858, Nicolas Rieussec, Star, Star 4810, Star Classique and Timewalker.
Each timepiece that is accessible in the app can be displayed using the True View feature. The tool lets users measure the width of their wrist and see the watch worn on a virtual model with the same size wrist.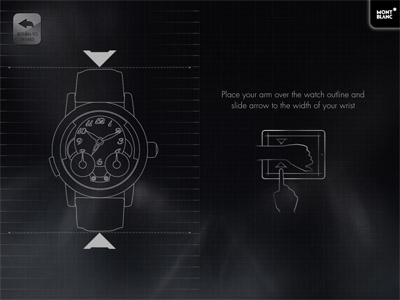 True View tool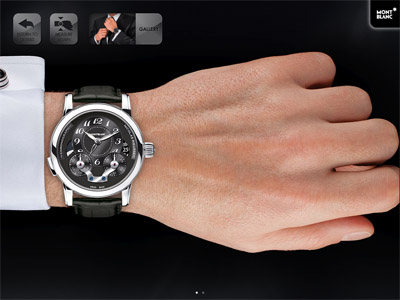 True View tool 
The app also lets users share watches via social media.
The Insights section of the app contains readings, images and videos that are dedicated to the heritage of the Montblanc brand as well as a news section with the latest brand updates.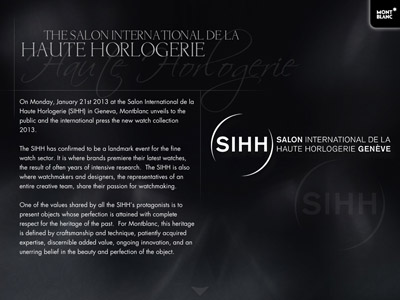 News item 
The app's Boutique Finder uses the iPad's GPS to find the nearest Montblanc location.
Watch out
Quite a few watchmakers have upped their presence on the mobile space via brand apps.
For instance, Swiss watchmaker Breguet introduced an app for the iPhone and iPad in May that showcases the brand's history, collections and innovations.
The app lets consumers view details of its timepieces and locate retailers. One section of the app, for example, is called Inventions that calls attention to three unique qualities that are inside some of its timepieces (see story).
In addition, watchmaker Rolex used mobile to introduce its 2012 collection via an iPad catalog complete with videos, images and interactive components.
Rolex's app also offers content and interaction for its most popular models including the Yacht-Master and Submariner (see story).
Watch marketers will likely stand out by offering a unique app experience, but one that is also connected to the overall brand experience.
Montblanc's Timepiece app could set it apart from the competition through its static and 3D images as well as its True View tool. However, the brand could have included more storytelling to create the unique app setting, per said Simon Buckingham, CEO of Appitalism, New York.
"The Montblanc Timepieces iPad app is a very high-tech version of the company's watch catalog, containing a stronger product orientation and harder sell than many other luxury brand and watchmaker's iPad apps," Mr. Buckingham said. "There is generally less editorial content and more specific information about the company's watch collections.
"For a company whose marketing tagline is 'A Story To Tell,' there really isn't much of a story being told," he said. "Given that Montblanc is better known for its pens and other products, I think it would be helpful to have more information on the watchmaking principles and heritage rather than such a heavy product and collection orientation.
"If you like Montblanc watches, or are interested in purchasing one, then this is certainly a valuable app for you."
Final Take
Tricia Carr, editorial assistant on Luxury Daily, New York

Like this article? Sign up for a free subscription to Luxury Daily's must-read newsletters. Click here!
Related content:
None Found
Tags: AKQA, iPad, iPad 3, iPad mini, Jason Warnes, Jewelry, luxury, luxury marketing, mobile, Montblanc, Nicolas Rieussec Rising Hours, Pad 2, Salon International de la Haute Horlogerie, Timepieces app, watches
You can
leave a response
, or
trackback
from your own site.