Montblanc, a maker of writing instruments and watches, is upping its corporate social responsibility through a Facebook application where fans can buy bracelets with profits going towards the Texas Children's Hospital.
The "Wish Lantern" app acts as a microsite on the brand's Facebook page where consumers can buy bracelets, send messages with the Wish Lantern feature and showcase their support. This is part of an ongoing effort involving Montblanc and the Texas Children's Hospital.
"Montblanc is definitely doing something great here," said Ron Schott, senior strategist at Spring Creek Group, Seattle. "Its connection with Texas Children's Hospital is really well done and shows the company in a good light in that it is not really pushing its product, but instead putting Texas Children's Hospital at the forefront.
"Corporate social responsibility campaigns and initiatives are creative ways for brands to give back," he said. "While many brands choose to give money to charitable organizations, the fact that Montblanc is giving its community a chance to get involved takes its efforts to the next level.
"By associating itself with Texas Children's Hospital, Montblanc is using its positive brand social capital to help drive donations for the worthy charity."
Mr. Schott is not affiliated with Montblanc, but agreed to comment as an industry expert.
Monblanc was not able to comment directly on this article.
The Texas Children's Cancer Hospital is a Houston-based pediatric cancer research and treatment center dedicated to providing therapies and family-centered care to children from infancy through young adulthood with cancer and blood disorders.
Wishful thinking
The Montblanc app is found at http://www.facebook.com/montblanc.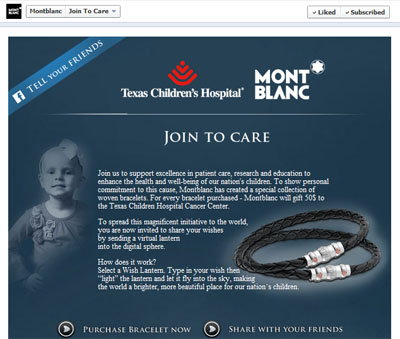 The Facebook app
Consumers can create a personal message or well-wish and digitally "send a lantern" up to the sky.
The first lantern was sent up by Laurel, a young patient at the Cancer Center who was diagnosed with a rare tumor, but after treatment is now cancer-free.
In addition to sending well wishes, consumers can also buy a bracelet from the Facebook app. They are woven bracelets with a silver clasp adorned with the Texas Children's Hospital logo.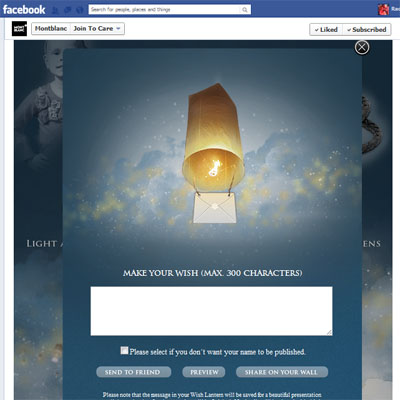 Consumers can send a message up
Each bracelet is $50 and all proceeds are donated to the hospital. There is a direct link to the purchase page on the Montblanc site once a wish lantern is shared.
"Facebook is a great place to showcase corporate social responsibility efforts," Mr. Schott said. "Beyond the fact that it is a great delivery channel for messaging about these efforts, Facebook is the ideal place to get a luxury brand's communities involved in the process.
"One company giving a lump of money to a charity is something that happens every day, but imagine if one company that started a corporate social responsibility program on its Facebook page grew that program to drive the highest level of donations that some charity had ever seen – that is doing well while doing good," he said.
Bracelet for the Texas Children's Hospital
Weaving values
Montblanc first started its partnership with the Texas Children's Hospital in February. In fact, this partnership is the first regionally-focused corporate social responsibility project for the brand.
The brand often uses children-based charities for its corporate social responsibility efforts.
For example, the brand supported the efforts of an organization dedicated to helping those with intellectual and developmental disabilities by donating 11 percent of its March proceeds to Best Buddies International last year (see story).
The company had a "Signature for Good" sponsorship with UNICEF, an internationally-recognized organization that helps less fortunate children in underdeveloped countries, where the brand raised $4.3 million for education and literacy programs.
Montblanc has played a role in the Urban Arts Partnership in New York, which teaches a variety of interdisciplinary arts programs in-classroom and after school, where students are instructed in various areas such as filmmaking, dance, writing and design.
The brand has also participated in Jewelers for Children, a charity where companies who manufacture jewelry donate to causes benefitting children who have been affected by illness, abuse or neglect.
"Today's consumers expect companies not just to do well, but to do good," Mr. Schott said.
"In a number of recent consumer surveys, more than 83 percent of those asked think companies should try to achieve their business goals while supporting charities and nonprofits," he said. "It is becoming increasingly important for luxury brands to not only be donating, but to be taking their corporate social responsibility relationships to the next level."
Final Take
Rachel Lamb, associate reporter on Luxury Daily, New York