British ecommerce Web site Net-A-Porter tapped the Google TV platform for a digital television station that allows consumers to shop as they browse video content unique to the site.
Net-A-Porter TV is composed of runway shows, exclusive designer interviews, photo shoots and insider trend reports. Viewers can share, like, embed and comment on all of the videos, which results in a highly interactive and engaging shopping experience.
"Since the launch is all about being social, sharing the content and having a unique experience, I think it will certainly add value to Net-A-Porter," said Christopher Dessi, managing partner at Drive Action Digital, Wayne, NJ. "Video is a powerful medium, for sure.
"My only concern with creating these channels is that the content, while cutting-edge, is still labor- intensive for Net-A-Porter to create," he said.
Drive Action Digital is a firm that focuses on digital marketing. Mr. Dessi commented as a third-party expert source.
Net-A-Porter's long-standing advertising partner, Tiffany & Co., will be the launch sponsor for the TV station.
Digital medium
Net-A-Porter TV is composed of four different channels: Runway, Who's Who, Trends 101 and Flashbacks.
Consumers will be able to browse, comment and share content via the TV station. New Net-A-Porter products will also appear on-screen available to buy with just a few clicks.
Net-A-Porter TV's Web site
Net-A-Porter TV is available on multiple platforms including all mobile devices and the iPad. It is currently the first fashion "tcommerce" experience available in the United States on Google TV.
Net-A-Porter TV on Google TV
The full-screen inferface creates new levels of interactivity, allowing users to view products details and buy directly through their TVs.
Users can search for videos on demand on their Google TV-enabled device. Google TV can be found at www.net-a-porter.com/googletv.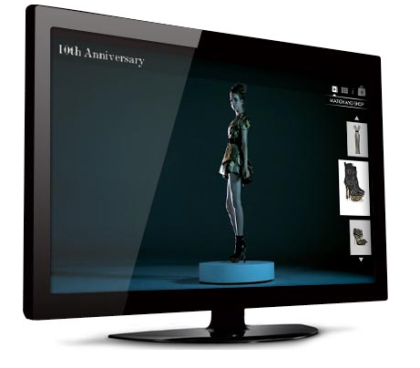 Net-A-Porter TV via Google TV
"TV is always good — If you put a shoe on TV 24 hours a day, people would pay to see that shoe in person," Mr. Dessi said. "It's also very expensive to produce."
Facebook contest
For the launch of Net-A-Porter TV, the ecommerce site will run a competition via Facebook for a $3,000 shopping spree.
Over the course of three days, fans will be given a daily clue with answers to be found on Net-A-Porter TV.
Users who have retrieved all of the answers must then email their responses to facebook@net-a-porter.com and the winner will be chosen at random.
Hit or miss?
Since Net-A-Porter TV has just launched, it is hard to tell whether or not it will be a success.
Net-A-Porter TV campaign
Mr. Dessi is not sure if affluent consumers will be comfortable purchasing luxury items via the TV, but only time will tell.
"I'd be concerned that purchasing via your TV hasn't hit mass markets just yet, but I don't think Net-A-Porter really cares," Mr. Dessi said. "They wanted to make a splash with something fresh and exciting – mission accomplished, but I'd still say that they need to engage the community more. 
"Perhaps they should allow winners of the Facebook contest to appear on the shows," he said. "I think Net-A-Porter is close, but not perfect with this release.
"However, as a first cut, this is really very cool no matter how you slice it."