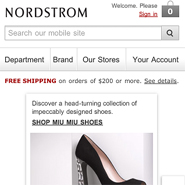 Department store chain Nordstrom has finally released its optimized site, but with competitors at an advantage by using multiple mobile offerings, is it too little, too late?
Except for a recent foray into mobile checkout, Nordstrom has not been available to its customers via mobile. However, consumers can now shop and buy the retailer's products via smartphone.
"For the largest customer interaction, it is normally smarter to start with the mobile Web," said Steve Timpson, president of SiteMinis, Atlanta.